We are heading back up to Alaska on the 18th of May for the summer season.  We have guests for Memorial Day weekend so we will have lots of work to do to get the park ready.  As usual, I will try to keep you informed of what is happening as the summer progresses.  Lots to do this summer as we have to build a new office and complete the interior of the lodge.  I also want to extend the deck area and build a campground fire pit.  I hope to also do some fishing!!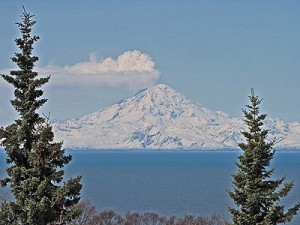 I am sure that most of you know that Mt. Redoubt (55 miles across the Cook Inlet from us) has erupted again this year and is sending steam and ash into the air on a regular basis. Our neighbor Paul Elkins has been kind enough to keep us updated with pictures of the eruption.  This photo taken from the same spot as the previous photo in the February blog this time showing the steam and ash rising from the volcano.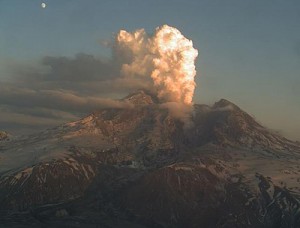 The Alaska Volcano Observatory published this photo in their May update.  It's a beautiful photo of the steam and ash rising out of the cauldron on the rear side of Mt. Redoubt.
So far the ash deposit on the Peninsula has been moderate as the prevailing winds have been carrying most of it north and west.  The volcano is currently building a dome in the cauldron and the seismic activity has decreased significantly.  It is still steaming and expected to continue this summer.  A violent eruption is not expected.  We are anxious to get up there and see it for ourselves.