Everything is boarded up.  The lines are all drained, tomorrow we head to Anchorage with a flight out to Denver early Monday morning.  From there we meet with Dave and Shirley who will take us back to Kansas for the winter.  It's sad to say goodbye, but it's been a really great summer with lots of friends visiting (we will get to that later), who helped us make a ton of improvements (more of that later too) and the weather has been spectacular!  We had a whole month with no rain (bad news for the forest fires) and temps up in the high 80's (now that's hot here!).  But then as usual, the reds came into the river and the rain came back too.  Rain wasn't bad this year at all and it helped alleviate some of the fires that were up here (fortunately not close to us).
So let's take a quick look back at what happened this summer and who was here to visit us (not counting RV'ers who we enjoyed having with us too):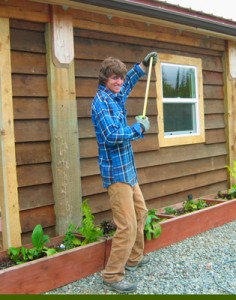 Travis Andregg, Karen and Todd's oldest son came to visit us and work at the Park for a month in May and June.  One of the many, many tasks he helped us accomplish was the new Office space.  He helped me put up the walls, lay the floors and put up the interior sheet rock and ceiling.  Then while I did the electrical and the finish work on the inside, he cut and installed the wood siding to match the rest of the Lodge.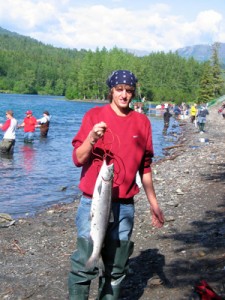 It wasn't all work and no play though.  Here he is catching his first sockeye salmon at the Russian River with all the other Combat Fisher-persons.  We had a great day there with lots of fish and fisher people.
He also caught his first King salmon and Halibut when we went fishing with our favorite guide and friend, Captain Don Erwin of the Alaska Trophy Charters.  He caught lots of Halibut that day also.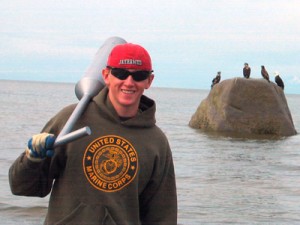 We took Travis back to Kansas with us for his sister Nicole's wedding in June and brought back Jacob Post, Debbie and Paul's youngest son to help with other tasks for a few weeks.  Here he is posing with some of his eagle friends waiting for the tide to go out so he could use that clam shooter over his shoulder to pop out those elusive razor clams.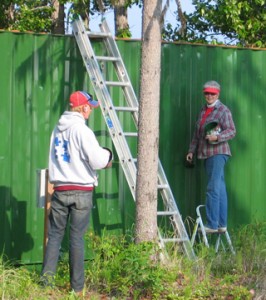 We had purchased a used Conex storage unit for the Park.  Jake and Jan were busy painting it Forest Green to make it blend into the spruce and cottonwood forest behind it.  They must have done a really good job painting it because I haven't been able to find it lately (actually it's so full of stuff I'm wondering where I can put our 4-wheeler).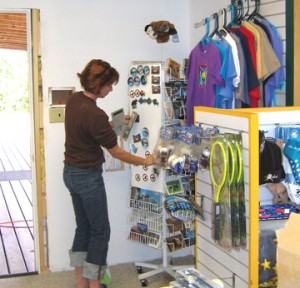 Debbie flew up a couple of weeks after Jake came with us and spent a week helping out too.  The new Office had been completed and she took over the task of arranging the gifts and things in the store portion.  She also got to do some fishing with Jake and Kevin, but it was too early for the Reds to be here and the Kings were as elusive as usual.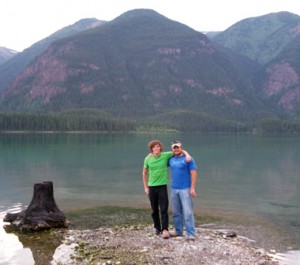 At this same time, Jerod, Jordan and Jerod's friend, Brett were driving north with the Park's new addition, the 'Amazing Grace' which is a nine passenger van to be used to haul around guests at the Park.  They were pulling a boxed in trailer with our 4-wheeler and two inflatible pontoon boats to be used on the Kasilof river and in Johnson Lake plus a bunch of other stuff that everyone thought we needed in Alaska (and we do!).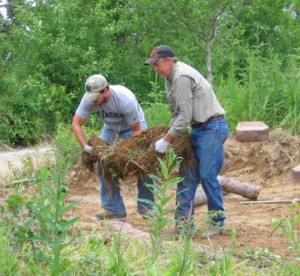 They arrived a couple of days after Paul and they all quickly went to work helping build the fire pit.  Here Jerod and Paul were hauling out layers of sod to the sides.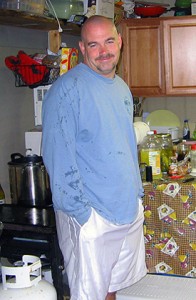 Ryan, Kevin's oldest son arrived shortly before Paul and was soon installing windows in the rear of the Lodge for the new bedrooms that added last fall and finished this spring.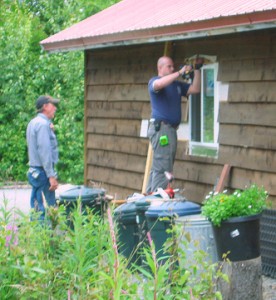 Here Ryan is inserting the window while Paul is helping as he can to provide materials and support.  Soon a window was added to each new bedroom without outside access allowing for exit in case of a fire in the Lodge.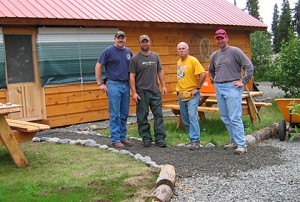 Three of Ryan's Firemen friends, Jeff, Dave and John came to visit and catch fish (duh!).  While they were here they help build a new walkway to our camp kitchen area (now does that really surprise you that four firemen would want to build a new gravel walkway so they could get to the kitchen?  DUDx2!).  Never-the-less, the new walkway was really nice and we needed it.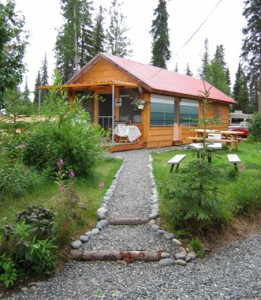 It was so great that they added another from the Lodge so they could get there faster. Actually, we had a great time with them and they helped us at lot fixing up the fire pit (go back to the fire pit story for this one).  They also caught a lot of salmon and halibut even more than they could get in their fish boxes so they left some for us.  We have so much fun up here that I don't know how anyone could stand to not come up and join us!!!!!!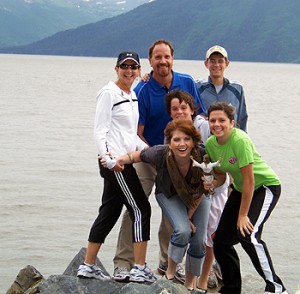 They no more than left when that crazy family from Topeka came up to visit us, THE STROMGRENS, Jan's youngest daughter's family.  Oh what a wild and wicked time we had with them (sorry to the Jesus figure that they had with them).  They brought this small Jesus figure with them from their church with the idea what the rest of the world was like and to keep their sheep in the fold.  We took him with us everywhere and showed him what it was really like to live in the New Frontier with all it's beautiful scenery, wonderful fishing and delightful weather.  Needless to say that there were a few characters that were encountered that might make Jesus rise to the occasion; however they prevailed and those characters were held at bay and enjoyed!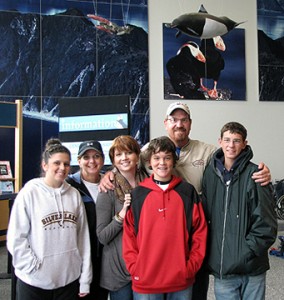 It wasn't all fun and games as was seen in their section in the blog.  Craig and the boys helped with the building of the fire pit and several other tasks around the property while Kyra, Marissa and Miranda did maid duty in the Lodge and helped prepare food for all of us.  We visited Homer and Seward and they went on a great Halibut trip with our favorite Captain Don.  Kevin and I took them salmon fishing and eventually all the guys caught their salmon.  The girls had a little more trouble in that area, but it was largely do to lack of salmon when they were fishing.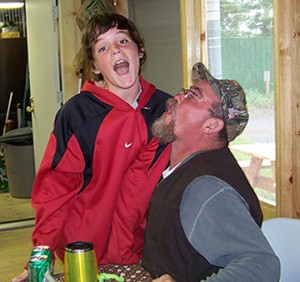 Nephew Kevin and his new best buddy, Brandon (because he helped him catch a red) kept us entertained each evening with glorious singing around the kitchen table.  It was very entertaining from afar since we were as far as we could get away around the camp fire or in the Lodge playing cards.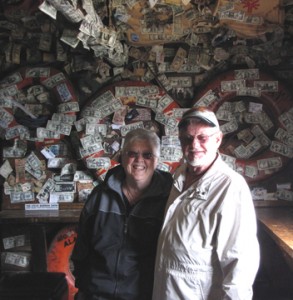 We just dumped them off at the airport and had to go to Seward the next day to pick up our friends from Hoxie, Dave and Shirley Cooper (Dave is actually Jan's cousin although she won't admit it.  That Cooper clan is that way!!)  We had a blast with them too although Shirley was slightly under the weather with her bum knee.  They had come up on a Cruise line and we toured Seward in the rain (familiar scene) then went Halibut fishing and salmon fishing, moose watching and general good times with a foggy trip to Homer.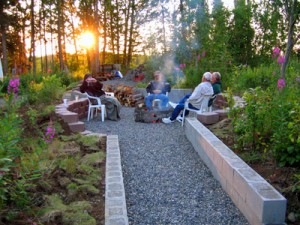 Less we forget our wonderful evenings around the campfire with Shirley bundled up like a mummy and the rest of us lost in the smoke from the wet logs we were trying to burn.  Actually, we enjoyed the evenings around the campfire tremdously especially this time of year when the evenings are cool, but calm and pleasant.  The sun sets around 9pm and it is glorious!
But that wasn't all of the visitors.  Along came Todd and insisted on going fishing everywhere!!!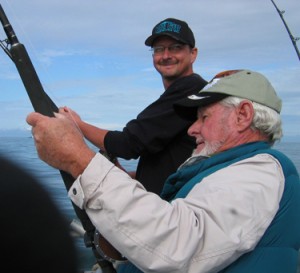 He insisted on going Halibut fishing with Dave and then he had to go fishing at the Russian River for Reds. The worse part of it was that he caught fish wherever he went!  We did have a good time and we caught fish too!!  But that was only part of what he did while he was here.  He helped me lay out and build the deck extension which was a huge job with a stairs down to the driveway below.  It looks great as you will see below.  Come up and enjoy it with us sometime next
SUMMER!