As I promised last night, tonight follows another visit by one of our Grandson's for a short two week work tour on the Kasilof RV Park.  Jacob is Debbie's and Paul's youngest son, is a Junior in Scottsbluff, Nebraska high school.
Jan and I went back to Kansas City on the 18th of June for our Granddaughter, Nicole's wedding.  We took Travis back with us (he was ready to get back home and to his summer job at the Clinton Lake).  Nephew Kevin Pyle and Jacob came back with us.  I will let him tell you about his visit with us and I have added some photos to emphasize some of his comments.
Alaskan Adventures
6-26-09: 1st Day
Greetings to all, this is Jake Post, Debbie's youngest boy. I am the new replacement laborer and diary writer person thing for Travis. We flew out of Denver at 3 and flew over to Salt Lake City, (watch out for the Mormons) Utah. Which to me that don't make a lick of sense; but no one listens to little ol' Jakey. Anyways, we flew out of Salty Lake around 9:00, to the Final Frontier, The Icy Lands, The Woodlands, the 11th wonder of the World, The Fishing State, and I'm am running out of names, SO we will just call it Alaska for short. The flight seemed to take several decades, but in reality it was only 5 and a half hours. We landed in AK around 12:00 A.M. and hooked up with Kevin and our luggage. We then took a charter bus back to the Airport parking lot and got into our truck. It's a Chevy……. ☹. Dodge is better and so is Ford, but it has four wheels and moves. We then drove to the Missiruh Crick Side Worshe Lodge (making fun of Grandma's Kansas slur). I actually don't know the real name because that is what I called it. I'm getting sidetracked again, which I do easily; you'll have to bear with me. ANYWAYS, we checked in and promptly inspected the back of our eyelids for scrapes and holes A.K.A. sleep. We woke up around 7:30 and went ate a fantastic breakfast at the Peanut Farm. Then we spent the rest of the day running here and there: Sam's Club, Sportsmen's, which is where I got my new Smith & Wesson S.W.A.T. edition knife. The Moose is Loose (I like long john's) and many other various places for various supplies. On the way we saw a Mamma moose with a baby right off the freeway and then, half a mile away from J&J's, we saw another Mamma and baby. Then we drove back to the J&J Kasilof Kampground as I lovingly named it and started to unload.
The caretakers (Sally, Tom, and Nelson) stuck around for a while, helped us unload and then departed to return to their own homeport. Then we scraped a delicious dinner together of grilled chicken, beans, bread with butter, a salad, cottage cheese, overall: AWESOME. Then we just chatted about anything and everything. Grandad showed me, my duties as a laborer,which mostly included cutting down trees. Then we all just kind of separated and did our own stuff until it was nighty nighttime. That's all for now, If the women don't find you handsome, they'll at least find you handy. Over and Out.
6-26-09: 2nd Day
Salutations everybody, I woke up around 7:10 and went to meet the crew for breakfast in the 'Road kill Café'. We had sausage, hash browns, and eggs. It was quite delicious and then Jon and Kevin went into town for Jon's doctor appointment and to get the old fishing boat.
So there I was, Jake Bunyan; with my hedge clippers and a mean attitude. My blue ox was grazing nearby. I cut down the thick and vast forest of J&J's so people could see through the forest and say, "that looks like a great spot to camp." I worked hard and long until I made best friends with the mosquitoes. I then had to dowse myself with Skeeter spray and then went back to work until Grandma ordered me to take a break. I obliged.
Grandma was doing paperwork and pulling weeds. When Grandpops and Kevin got back, Jon went to work on the new office and Kevin worked on the electrical in the Ludicrous Lodge. I am making a name for every building. The Lodge is ludicrous because that's where I am staying.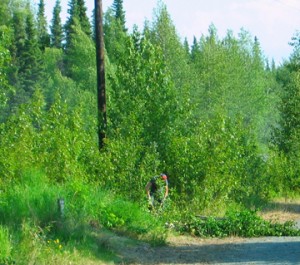 When I cut down a segment of trees, I stacked them in a pile and threw em' in the back of the truck and took em' down to our tree pile and dumped them. We then had lunch, which was sandwiches, tater chips, cold salmon chunks (amazing), fruit salad, cottage cheese, and leftover chicken. Once that mouth-watering feast was over, we all went back to work. We had three customers come by. The 1st was an older couple, which just couldn't make up their minds = they didn't rent a spot. The 2nd couple was a friendly middle-aged couple that rented a spot for Monday. The 3rd was a Mom and three girls that thought the place closed down and so they toured around and will probably rent a spot. Then it started to rain heavy, so I came indoors and took a break for a while because I couldn't feel my back. But then I forged a solid wooden spear and ventured into the Johnson Lake woods. Then around 4:30, I came back to J&J's to get ready to go to the Elk's Club to meet Nelson, Sally, Tom, Brenda, and Tom. Brenda and Tom are from The South. So it's very interesting listening to them talk. When it was time to leave, Kevin, Grandma, and Grandpa and I went back J&J's and did our own thing until we went to our Sleep Huts and retired for the night. So, I'm pullin' for ya, we're all in this together.
6-27-09: 3rd Day
Hello everybody. I woke up around 7:10. I am going to try to do the same everyday. Then I moseyed up to the Road kill Café and had bacon and eggs, with grits. I ain't never had no grits before, but it was plum good eatin. I finished up cutting down the rest of the trees I missed and some new ones. Then Tom and Nelson came out to J&J's and Jon, Kevin, Tom, Nelson, and I went clamming. Grandma decided to stay home and pull weeds. We arrived a bit early, so the tide wasn't quite going out yet.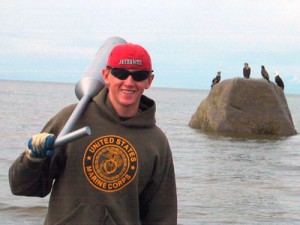 So we walked around and there were bald eagles fighting with pretty big seagulls. Soon enough the tide went out and we went to clamming. Now for those of you who haven't down this process before, it's quite simple. Y'all are going to have to follow me on this, you have what looks like a fire extinguisher and the inside was hollow with its base chopped off and without the hose. Then attached to the top was a T handle and on the underside of the handle was a little hole.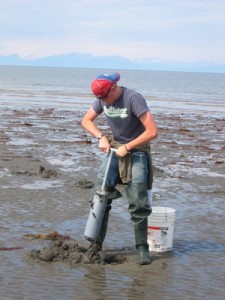 When I saw a little dimples in the sand or a hole bubbling; you put the "fire extinguisher" on it and shove it deep into the ground. Then you put your finger over the hole and gravity sucks a bunch of dirt and if you're lucky, a clam out of the ground. Now I do that once and then
real quick like stuck my hand in the hole and grabbed the clam. We did this for about four and half hours and all together caught around 65 and 3/4 clams.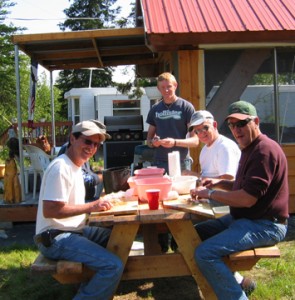 Then we came back to J&J's and did the cleaning process which consisted of: removing of the shells, cleaning out all the dirt, removing the head, intestine, the No-No special place (private areas) and all that. Then we divided them up to Tom: clam fritters, Jon: clam strips, Nelson: clam chowder and me: any type of clam eater. Then I sat down and resharpened my knife. I made it so sharp; I could circumcise a knat. Then for supper we had salmon and halibut, and then we just chilled and chatted until 8ish and retired to our respected spots. Keep your stick on the ice. Over and out.
6-28-09: 4th Day
Hey how are ya? Today was a busy day. I woke up around 7:11 (mind the pun) and ate apple pancakes and jimmy dean sausage. Mmmmmm. That was good eatin. Then we went to work on our jobs for awhile: Jon, on the new office, Kevin, the ludicrous lodge's electricity, Nelson, moving gravel from here to there, Grandmamma, cleaning up the kitchen and myself being Jake Bunyan so more.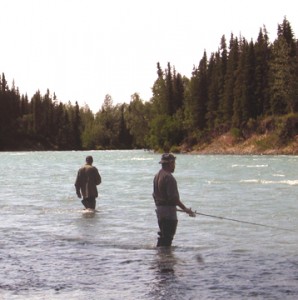 Then around 11:30, we went down to Kasilof River, where my family and I fished last year and fished for King. Now for me, this was a fishing day from hell. We got there and got all rigged up and ready for some serious fishing and we all spread out from everyone and I cast my line and SPLUNK! It went about 2 and half feet from me and splashed right back up in my face. The line inside the reel was more twisted than your face gets when you eat a lemon. So once I got that all untangled I reeled back in and ALL my eggs were gone. So I trudged back to the bank and slapped some more on there and trudged back out there and cast my line out and waited.
Nothing was doin, so I reeled back in and all my eggs were gone. So, I went back to bank and put some more eggs on there and went back out. I cast out and SPLUNK! My line was twisted up worse than the 1st time. So I got that all straightened out and castled again and waited. That was about time when Grandpa caught the biggest fish I have ever seen (a whopping four inches long). So I started to reel back in and my pole was almost jerked out of my hand and I thought, GREAT A FISH!!! Nope my line was snagged on an underwater log. So I spent about 10 minutes getting that undone and when I reeled back in, yep you guessed it, no eggs. So I went and got some and casted out and waited. Then all of a sudden I felt this EXTREMELY cold liquid running in through the backside of my waiter. That's when I called it a day and went and sat down on the back and observed.
Gramps, Grams, and I went back to J&J's, Nelson and Kevin stayed there a little while longer. When we got back we had lunch and after that I meandered over to Johnson Lake and paddled around in the useless inflatable raft for about 30 minutes. Then I came back to J&J's found out that Nelson and Kevin didn't catch anything either. Everybody was doing his or her job so I became my alter ego again, Jake Bunyan. It was so nice and warm I was workin shirtless!! We had a couple rent a spot for two days come by around 6. Then around 6:45, it was suppertime. Now Travis when I see you again, promise not to kill me. Promise? Ok, good. Grandmamma made Beef and Noodles, now for those of you who don't know what that means, it's pretty much like The Good Lord came down and made them Himself. They are THAT good. We also had mashed taters, green beans, and bread. Then everybody retreated to their quarters and me and Nelson took a shower (separately of course) and chilled out and then I researched some information about 17 different types of sharks because I am thinking about being a Marine Biologist and specializing in sharks. I watched a few episodes of Band of Brothers and went to a very important meeting of checking out the back of my eyelids, as did everybody else. "It's not the size of the dog in the fight, it's the size of the fight in the dog." General Dwight D. Eisenhower
6-29-09: 5th Day
Hello everybody. Today was a hard workin day. I woke up around 7:17 and went to the Road kill Café. It was kind of a late morning because; Grandma wasn't feeling to good so she was sleeping in and so did Grandad for a while. But then Kevin, Nelson, Gramps, and I had eggs, Italian sausage, and bacon. It was absolutely delicious. Then I went to cutting wood for the smoker with a cute little electric chainsaw. I had to cut about a mountain of alder and in the bottom of alder mountain I found some battered old spears made from some lethal warriors (my brothers and I made some last year), I set them aside. I wouldn't dare cutting them up. Then Grandma woke up and was going to go to town to get groceries and take Nelson back. Grandad was workin on the office, Kevin was pretty much done on the ludicrous lodge's electricity. I finished up the alder mountain and Grandad and I had a late lunch, Kevin didn't really eat anything. Grandma came back and we helped her unload groceries and then I assumed my secret identity of Jake Bunyan again. I cut down at least 30 cottonwoods and made two HUGE piles, I will get that tomorrow morning. Then we all kind of relaxed for awhile, Kevin and made a trash run then came back and ate a delicious feast which was ribs, beans with bacon, cottage cheese and tomatoes. Then we ha a couple late customers come by and then we all chatted for a while and retired to our respected nightly reservations. "Don't go around saying the world owes you a living. The world owes you nothing. It was here first." Mark Twain. Over and Out.
6-30-09: 6th Day
Hola Seniors y Senoras Y senoritas. Today was a busy day. I woke up around 7:18. I strolled on over to the Road kill Café and we had the true Cowboy's favorite meal, biscuits and gravy. Then everybody went to their separate jobs, I had to hack the dead branches off of trees we cut down yesterday, Gramps and Grams were workin of the new office and Kevin was in the lodge, setting up the cable. After I was down hackin off limbs (of the trees obviously) I became Jake Bunyan, Paul Bunyan's long lost son and finished off most of the cottonwoods that I had to (for now). Then I helped Grandpa in the office setting up little railings for a dropped ceiling. Then we had lunch of awesome leftovers: beef and noodles, mashed taters, and lemonade. After that we all went into town and had to return and get more supplies. We had to return some railings, cord, and doorknobs. We got paint and paintbrushes for guess who (me) to paint the connex (train car used for storage). So that's what I get to do tomorrow. Then we went to a great pizza place/brewery (where my family and I went last year). I got constant crap because I was bragging that pepperoni was the best and Kevin got brew house pizza, mostly veggies, chicken, and pepperoni, and J&J got Mediterranean. Then we went to get gas and several people almost ran into us. But thank goodness, for my speed of a cat, reflexes of a mongoose, eyes of an eagle, hearing like bat, and smelling power of a dog, I noticed all of the soon-to-be-accidents and changed them to no accidents. On the way home we got stuck behind an elderly lady, who would absolutely stomp on the gas and then eventually what we called "fell asleep" which was just severely slowing down. She repeated this process several times. Once home, Kevin and I went fishing on the Kasilof for Reds, which are basically salmon. This fishing trip went much better than my 1st one fortunately, but we didn't catch anything. We came back and bid everyone goodnight and retired for the evening. "Far better it is to dare mighty things, to win glorious triumphs even though checkered by failure, than to rank with those poor spirits who neither enjoy nor suffer much because they live in the gray twilight that knows neither victory nor defeat." Theodore Roosevelt. Over and Out.
7-1-09: 7th Day
Hey there, today we spent the whole day at J&J's, which is pretty amazing. I woke up around 7:15 and we had bacon, eggs, and grits. Then Grandpa and I put up a new sign that is more visible to the public for Kasilof RV Park. Personally, i think J&J's Kasilof Kamp N' Ground is much better, but no one listens to me. Then Grandma and i had to scrape off all the stickers on the Big C (connex) so the paint would go on. While that was in process Grandma chose to stand on a bucket on very unstable ground and all off a sudden i heard a crash and just saw little grandma feeties kicking in the air. Of course, being the loving grandson i am; i IMMEDIATELY stopped working and helped my dear Grandmother up and told to take it easy.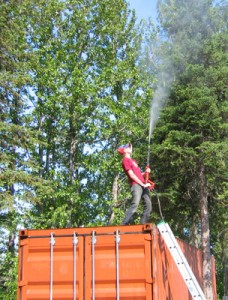 After that i assembled a pressure "worsher" to worsh off the connex so Grandma and i could paint it and that took me awhile because it hadn't even been taken out of the box yet. After it was all washed, it was time for lunch and we had leftover ribs and halibut.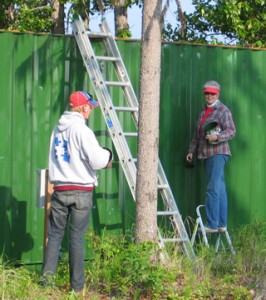 Then Grandma took to painting the Big C and we painted the entire right side and the front a forest green. It looks pretty good if i don't say so myself (which i do). That took us all afternoon, then we just relaxed and chatted. For supper, we made Germany proud. We had bratwerst, sour kraut, potatoes, corn, and bread. Then we relxed and chatted for awhile then retired for the evening.
"All that we see or seem is but a dream within a dream." Edgar Allen Poe. Over and Out.
7-2-09: 8th day
Hello everyone. Today was a busy day as far as customers go, but we will cover that later. I woke up around 7:15 and we had delicious breakfast burritos, with TONS of the best seasoning in the world, Tobasco Sauce.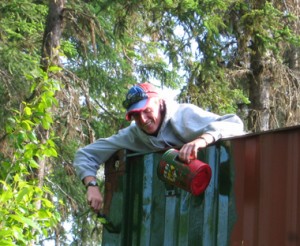 Then after that, Grandma and I finished painting the Big C. We concluded that Grandma and I made the most elite painting force, because we painted that thing in two days; when we weren't falling off buckets and wat not. Then we ate some lunch and finished off the Big C. Then throughout the day, we had the largest rush of customers ever, we had at one time 5 people (but they were all related). But we had at least 12 people come by. I installed two new door knobs in the ludicrious lodge. The knobs were for the cash register/storage room and the other was for the back door. Then i spread some gravel along the side of the Roadkill Cafe and made it look nice and purty. Then I made a HUGE, MASSIVE, and QUITE LARGE trash run and went to the post office, my office. Haha just kidding, the mailing place to drop some mail and pick up whatever mail was in the P.O. Box. Then i came back and we just relaxed until supper was ready, but in the meantime, we were sitting there and Gramps starting making fun of my pretzels; and doesn't fly because pretzels are the best thing ever. So without hesitation I took a pretzel and lobbed it at him. LOBBED: a hard throw. It struck him in the shoulder and then without hesitation he took his a peanut and chucked one at me. CHUCKED: a quick and hard throw. But thanks to my speed of a cat and reflexes of a mongoose i blocked it. But then he took a handful of pretzels and launched em at me. The force of the combined extra salty pretzels knocked me over, because i was trying to block them all and i was on a white plastic lawn chair so i fell backwards, so I ended up on my but. But then the war was over and supper was ready and we had, sweet potatoes, Kevin and I had regular potatoes. We also had porkchops, ribs, salad, and lemonade. Then I helped Gramps with all the paperwork of all the customers and all the numbers to make sure it all added up to the right amount of $. Then everyone bid each other G'night and I directed a few people to the showers, then I watched an episode of Lonesome Dove and hit the sack. "Always bear in mind that your own resolution to succeed is more important than any one thing." Abraham Lincoln. Over and out.
7-3-09: 9th day
Greetings and salutations, today was a busy day also. I woke up around 7:15. Kevin went fishin' early this morning and left a note entailed, "Gone fishin' instead of justa wishin". So everybody kind of made their own breakfast, I had honey bunches of oats. We haven't seen any moose for at least five days because our campground is full. Once everyone leaves, they will come around again .Then we started the old ford (our work truck). It's new name Sergeant Brown, or Sarge for short. We put some shelves in it and put them in the soon to be office to hang merchandise off of. Then i went to picking up/chopping off dead limbs of the trees we cut down and throwing them down into the tree pile. I've increased the pile by at least 8000% since, I've been Jake Bunyan mostly every day. Then after that it was around lunch time and we had DELICIOUS salmon salad. Then Kevin went to lay down, and Grandpa was workin' on the office and I was staining the wood outside the office. Then around 5 o'clock we went to the Elk's Club to meet Tom, Sally, Nelson, and Carolina Tom and Brenda. Then we went to the Kenai airport and picked up my mom and went the Kasilof inlet to look at all the Dip Netters which means people have oversized fishing nets and they wade out into the ocean and get a net full and drag i it back out. Then we came back to J&J's and we just chilled and talked, Kevin did a MASSIVE load of laundry. Then i took a good 12 minute run and then everyone retired for the evening and now I am sharing the luducrious lodge with my dear mother. I am learning all sorts of stuff. "Experience is the teacher of all things." Julius Caeser. Over and Out.
7-4-09: 10th Day
Happy Fourth everybody! Well since I had my mom in the lodge I woke her up in the morning and then went to the Roadkill Cafe and I learned how to make french toast and I fried some bacon.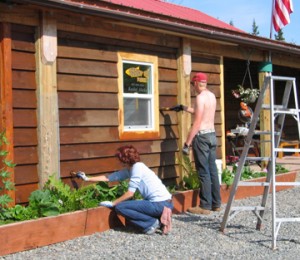 Then my mom and I went to finishing staining the front back side of the office and it's little porch. Then we started painting the  side of the office and then it started to get so hot, I took my shirt off again.
Then the trash was getting really full, so my mom and I made a trash run and went to the My Office (post office) and to get some ice. Well along the way to the post office, my mom spotted a pair of moose that were almost yearlings and she started screaming and jumping around hysterically,"LOOK!!!! THERE'S A MOOSE, THERE'S TWO MOOSE!! Oh Jake can you stop?"
Meanwhile, it's rush hour times 175 on the highway we are on and she wants me to stop, YA RIGHT. So I turned around and parked on a side road and she walked down to about where they were and got some pictures. She was extremely happy. Then I helped Grandma urathanyn some boards going inside the office. Then it was about lunch time and we had salmon salad on bread again. It was amazingly delicious. Then we went back to work staining, working on the office, and urathayning. Then I became Jake Bunyan, with the help of Mom Bunyan and Grandma Bunyan and we cleared some more cottonwoods and pine trees. Then around 1:30, Tom and Sally came out for the Clam feast, then Big Tom, Brenda, and Nelson came also. This was the best dinner I've had in a long time. We had clam strips, clam chowder, clam fritters, potato salad, corn on the cob (courtesy of Big Tom and Brenda, because when they mentioned it and i jumped right up, I LOVE CORN!!!) So, they brought about 15 cobs, I had five of them. Then we all sat down and chatted about all different kind of subjects and Brenda and I determined that I am going down to North Carolina for awhile. So then when everyone left, I took a good 17:30 run and then everyone retired to their spots. "Patriotism is easy to understand in America. It means looking out for yourself by looking out for your country." Calvin Coolidge. Over and Out.
7-5-09: 11th day
Hey everybody, This morning Kevin, my mom, and I went fishing on the kasilof river for Reds. Unfortunately we didn't catch any, but we saw an eagle and of course, it's Alaska so the scenery was amazing.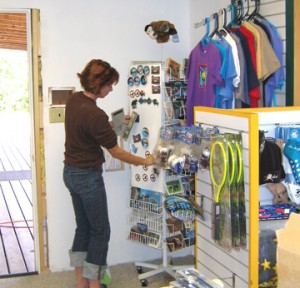 Today was a very productive day for my mother. She organized the office/gift shop and it looks very good. So Grandad worked on cutting boards for the window frames, which I helped cut. Then i got the pressure worsher and washed up the truck and the van, they were absolutely FILTHY!! That took me about all day, besides my mom and I made another trash run and she was watching very hard for moose, but she didn't see any (thank goodness). So when we came back it was lunch time and we had clam leftovers and corn and all sorts of goodies.
Then I helped Kevin unhook a signal amplifier for the antenna on the roof for TV channels, but we still didn't get any signals. Then i helped hold up a couple heavy shelves. About 4:55 on the dot Grandma and Grandpa both agreed it was TNT time (tangeray and tonic, a J&J classic and favorite). Then we just relaxed until the most delicious supper was made. We had steak (medium rare, I now prefer rare, but that's just fine), grilled veggies, shrimp and bread. Then i took a 20:00 run and eventually everyone went to their sleeping quarters. "A man who dares to waste one hour of time has not discovered the true value of life." Charles Darwin. Over and out.
7-6-09: 12th and final day 🙁
Hello to everyone, today was a slow day, because it was my last day in the Great Wilderness unfortunately. But I had to go back to the real world. You see I have a job and I have to take care of my wife and three kids, pay the bills and all that. But today I woke up later around 7:30 and we went and had biscuts and gravy again, and I ain't complain'. Then Kevin, Grandad and I went into town to get supplies and I got a kershaw knife that was on sale and it's kind of like a switch blade, it's all black and way cool. Then we had to refill the pigs because they were empty (mini kegs shaped liked pigs) and that was an emergency. Then we came back and unloaded all the stuff and it was lunch time, we had salmon salad again, which was delicious. Then my mom and I went out onto Johnson lake and paddled around for awhile. Then my mom and I went on ANOTHER trash run and we didn't see any moose (thank the Good Lord), get ice, and check the fish count in the Kasilof River. They have a radar and they post daily how many fish have came in. Then i helped Grandad put up some shelves in the new office/gift shop and then I fertilized all of Grandma's plants. "TNT Time!!" Gramps shouted and so ended the work day. We sat around and chatted and then we had a great supper of smoked ham, beans, and corn. It was so good. Then Kevin and my mom went fishing, I stayed because I had to pack desperately and then they came back around 10:05, she caught a a fish about four inches long, and saw another moose, good for her; and then everyone retired to their sleeping huts. It's been a pleasure filling you all in during my stay and I hope you enjoyed reading it. I'm not quite sure who will complete the Saga, but you will soon find out. Since this is my last journal entry I'll leave you with three quotes. "Accept the challenges so that you can feel the exhilaration of victory." General George S. Patton. "Civilization is the limitless multiplication of unnecessary necessities." Mark Twain. "Courage is not simply one of the virtues, but the form of every virtue at the testing point." C.S. Lewis. Over and Out.
Hope you enjoyed this as much as we did!  Jake and Debbie left on the 6th and Paul arrived on the 11th of July.  Grand Nephew Ryan came the 12th and the rest of the Post boys, Jerod and Jordan plus friend, Britt arrived late the night of the 12th driving the Amazing Grace and pulling a trailer full of Goodies ( but that's another story for later).
Please follow and like us: