Kasilof Alaska – March 1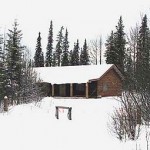 Our neighbors in Kasilof, Paul and Martha Elkins sent us some photos when they got back to Alaska at the end of February.  It looks like there is about 8 to 12 inches of snow on the roof of the lodge.  Paul indicated that this has been a very cold winter there with temperatures below -40 degrees.  March is the snowy season so we will see how much more we get.  We plan to be there the 19th of May and have a lot of work to do to get ready for the summer guests.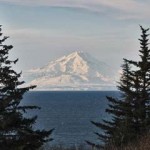 Paul also sent us this beautiful photo of Mt. Redoubt.  As some of you may have read, Redoubt has been steaming this winter and the earthquake activity has increased significantly since the first of the year.  The Alaska Volcano Observatory has indicated that they expect it to erupt again although the seismic activity has seemed to decrease somewhat in the past couple of weeks.  The cauldron where the volcanic domes are on the opposite side of the mountain in this picture and you can't see steam rising from it in this photo.  It is approximately 50 to 75 miles away from the Kasilof RV Park.