Sorry that it has taken me so long to update this, but as you will see in the next few weeks, this has been a very, very busy summer!  I also appologize to those who have made comments that I haven't returned; however, I have had very little time this summer to sit behind the computer and it was used answering e-mail requests for reservations and recording bills.
My last posting was photos of our Grandson Travis Andregg's visit.  I want to start off with a diary  that Travis wrote while he was here.  I think you will enjoy this as much as we did when we read it.  I have added a few photos to the words that he wrote where they fit.  He also put in a few photos in the later sections although I don't have access to them.
The Great White Northern Exposure
Day 1
Left kci late because they had to do "unscheduled" maintenance on the plane. Then about a two hour flight to Denver, only had to wait for half an hour to board onto our flight to Anchorage. That five hour flight had a cute baby in front of me, a creepy lady next to me (not grandma), a dog behind me, and I had a dead lap top. We got into Alaska at 11 pm and it was still light out side. We then had a cab come get us and they took us to the Days Inn. Hit the sheets and passed out quick.
There were not many sky scrapers in the city, maybe only five or so buildings over 20 stories. An observation that I made was that the buildings were either hotels or petro owned (bp and Conoco Phillips, there was even a highway 'adopted' by Chevron, ¿irony?).
Day 2
Woke up at 6 am, self willing, it felt like 10 or 11. After we got the truck from storage we noticed that it had a lot of ash on it, all from the resent volcano eruptions. We left the inn and ate breakfast at a rude Country Kitchen. Off to run errands at various places, mostly to figure out that most places don't open till 10. Best Buy, Sports Outfitters, Wal-Mart and Costco are all on the list to stop at. I realized that Cosco is a mecca of reduced prices and price saving peoples, I saw a 300 dollar bottle of wine and a complete liquor store inside this Alaskan store. A lot of people in Alaska have tattoos and many also wear shirts that support the state of Alaska (just an observation that I made, its kinda crazy).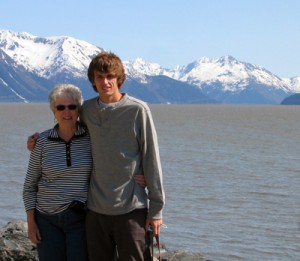 The three and a half hour trip south west to Kasilof from Anchorage was the most beautiful, scenic drive I have ever been on. Mountains on one side and the Cook Inlet on the other. The inlet was a muddy, sandy mess the tide fluctuates every 6 hours.
The roads from Anchorage to Kasilof went in intervals of bad and good (or old and new). The roads do not last very long at all because people are allowed to use studded tires and chains until May 1st. The metal on the tires chews up the road and wollers out the road
where the tires ride. These divots fill up with water and people hydroplane on it, in the winter the water sometimes freezes and you get two rows of ice in each lane.
For dinner we ate at a brewery called  St. Elias. They had great pizza and it was a sweet building. The décor on the inside was really cool, they had old stained glass windows hanging from the ceiling.
We got to the lodge around 7 and went to sleep early.
Day 3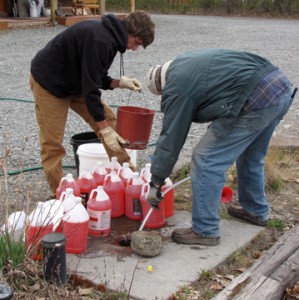 I have no sense of time at all, I woke up at 6 again today for no reason. We started working early on the water lines. All of them were winterized (filled up with anti freeze) so we had to pump them clean. That took most of the day. They put in 64 gallons in last winter but we were only able to save 22 gallons after we pumped it all out. We now have electricity everywhere and the water is clean, for the most part. Hopefully will have all of our utilities by tomorrow. We also finished unloading the truck today and put everything in its place.
Dad's camper is pretty sweet and has got a lot of potential. I found a sweet belt buckle and there is a really nice face plate in it. I hope I can clean it up good so I can move out to it soon.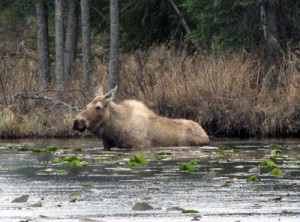 I saw a moose and followed it for a while getting a lot of good pictures and also getting my feet very wet. I am seeing a lot of wildlife but haven't been able to explore much yet.
Dinner was delicious. If some one dropped me off here and told me that I was in Colorado I would totally believe them. They have very similar scenery.
I am not tired at all and they just went to sleep (it's 9), what to do?
Day 4
Thursday May 21, 2009
Woke up round 8, ate breakfast and started laboring. We have people coming out here to stay for Memorial Day weekend. Five tents are camping out and they all belong to one wedding party. Because we have a lot of people coming to rent out slots we have to clean the place up. The previous owners had not done much up-keep in the last two to three years so much of the park is getting over grown with cottonwood trees, wild rose bushes, fire weed, alder trees, and such. So we spent today cleaning up some of the camping spots that will be use this weekend.
We worked till about 2 and then headed into Soldotna, which is the closest town (about 25 min away). In town we took care of some business, went to Fred Meyer's to get some more grub, hit up the post office, and we also visited Jon's sister, Sally, and her husband Tom.
There is a halibut fishing trip planned for June 1st.
The weather today was nice today and has been about the same every day so far. It is low 40's in the morning and at night, the high usually gets to mid to high 50's. It sprinkled for about 10 min tonight after dinner but it wasn't even too cloudy.
It was really weird saying goodnight tonight because it is still bright as day out.
Day Cínco
There are a lot of people that we are expecting to come in today so we are again cleaning up the park today. Cutting down more trees and picking up around the lodge, organizing everything so it looks presentable. Every day at 6 pm it is going to be my job to get all of the trash together, put it in the truck and take it up to the Solid Waste Station which is about five minutes away. It is just four giant dumpsters that the whole city puts their garbage in. I have to do this wonderful job to keep the bears away, they are attracted to the trash, and we don't want them to be here. There is a sign at the station that says to honk your horn loudly if you see any bears around.
There is an unfinished portion of the lodge that we are going to complete while I am here. We installed three doors today, mostly just to keep people out of our junk. I also put together a brand new grill, hopefully it will get a lot of use this summer. The weather was about the same today. There are tons of misquotes here.
Day 6
Delicious biscuits and gravy for breakfast. Then all morning I took elder trees, that were already cut down, and chain-sawed them into four to six inch pieces. Small enough to fit into the smoker because I guess that they have a good taste. I hung up two flags out side on the posts, the American flag and the Alaskan flag (which is pretty dumb, it's only the big dipper on a flag). After I got tired of doing that I started to cut down more
cottonwoods around the front entrance. I also got the work truck running. It is a '83 F-250 lariat, a pretty sweet looking truck. There are five groups that are stating here tonight. The people that are supposed to fix the internet told us they were going to be here on Thursday, but it is Saturday night and we still got nothing. That means we won't have anything till maybe Tuesday because of the holiday weekend.
Oh yeah, every night before I go to sleep I lock the back door to the lodge that leads into the bathrooms and the showers that the campers use. That happens at 10 pm, on this lovely night there was a guy that came in to use the bathroom at 9:50ish, this guy was sitting on the can until 11:45! So I started talking to him while he was in there, and he told me that he had diarrhea cyphicalacus (I don't know the exact pronunciation because I was laughing to loud) so that's why he was there so long. You think his legs would fall asleep and die from sitting like that for almost
two stinkin hours (pun intended).
Day 7
Today is Sunday so I didn't have to work on any thing for very long. After breakfast I tried to install the internet, again. And again had no success, so they are going to fix it all on Tuesday. Grandma and Jon went into town for a couple of hours after lunch so I decided to go fishing. I got my fishing license yesterday and a 14 day out of state license was 80 bones, that is ridiculous considering a year license in KS is only 20ish. In Kansas I also catch fish. For the two hours I was fishing at the lake across the road I caught zero fish, many bites but reeled in none. A little girl (maybe 4) started fishing next to me and within five minutes she caught her first fish ever, this is when I left.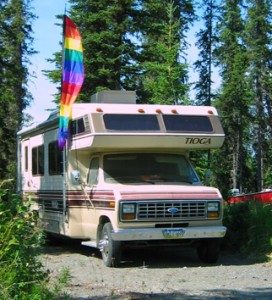 Dad wanted a RV the last time he was up but didn't have one. So he had grandma search for one so he would have one the next time he came up. He hasn't seen it but it is pretty nice, it just needs a little TLC before its livable. I started cleaning it today so I can move out of the lodge and into "the toga" (I just named it dad). It still needs a propane hook up, the anti-freeze drained and the fresh water tank filled.
The guy with the diarrhea handicap headed to the bathroom at 9pm  today but thankfully it only took him 20min today.
I still have no sense of time because going to sleep it was still bright out and 50 degrees.
Day 8
I kind of woke up upset this morning because I realized that I haven't meet any hot Eskimo chicks yet, not even seen any yet. Although I don't know if they will be too attracted to me with my grizzly beard I have got growing.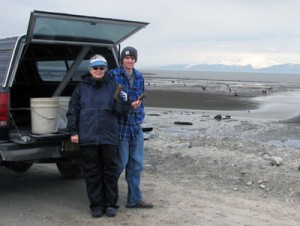 After breakfast we gathered all of our gear together to go clamming. We drove about 45 minutes to Ninilchik Beach were the clams were waiting for us. When we got to the place it was packed with hundreds of people, the tide is the lowest it is going to be in the next month and this is the best time to go.Clamming was pretty fun, I had never done it before but it was worth it. You look around on the beach for a little dimple
in the sand, grab your clam gun and start diggin; about a foot down there is (usually) a clam.
After we got back from the beach we started cleaning all of the clams, 37 total. We cut up all the meat and bagged it, we are going to have clam chowder one night and fried clam strips another night for dinner.

On the way back home from clamming we stopped at Jon's cousin's house and visited with her and her husband.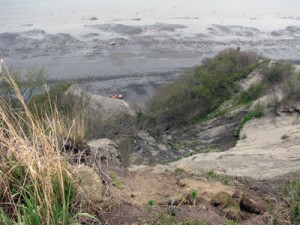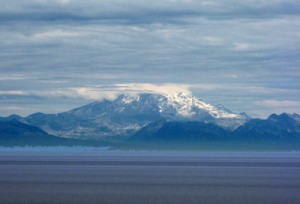 They had a nice house that had a beautiful view. About 50 foot from their back door was a cliff, at the bottom of that there was a beach, then the Cook Inlet and after that was Mt. Redoubt.  That mountain is an active volcano that has only been steaming while I have been here, but was erupting last month.

Day 9
Today was SO exciting, ha. For the last couple of days we have been making lists of things we need to do in town(s). Being in this rural setting there are series of small towns everywhere, so when it is time to run errands you have to go from town to town to hit up different stores in each town. We started out on the road at 9 o'clock and didn't get back home until 6; it was a full work day of shopping. It was torture. We went to the hardware store, state farm, the bank, the license plate place, the fire station (to get a burn license that we can't even use because it's to dry out), ACS (the Internet place to get all that resolved, but it's still not working), a good pizza place for lunch, Jon's previous property, the grocery store, Lowes, Homedepot, the place were we bought the tent we tried to set up yesterday to get the parts they didn't give us, and we ended the wonderful day looking at thousands of flowers at a nursery. For most of the morning Grandma and Jon were taking care of things that had to do with their business, so I was sitting in the car for most of the day. We finally got home and then tried to set up the internet with our new supplies, and again failed. Mortality is high.
Day 10
This morning we worked on the internet, again, for two hours and customer support on the phone this time. We got no where because it still not working, but we finally got them to say they are sending a technician out here in the next 48 hours. I doubt it though, so we will see what happens with that.
It was pretty cold today, only high of 45ish, it was overcast and rained all day. Since we didn't want to work outside in the rain I organized and cleaned up the workshop all day. We stopped working early and I watched TV for the first time in a while, we only get one channel though (CBS). Pork chops for dinner!
Day 11
It rained all day today since yesterday afternoon, so again we worked inside all day. I basically stayed in side the office all day and organized like crazy. Every thing that was out in the open was shoved into the office when we first got here. When the old owners sold the place they pretty much left everything here that they had. They were not the most organized people, and they were also pack rats so anything that you can think of was crammed into the office. I had to clear it all out because we are changing it into a guest bedroom. We are then building a new office on the existing front porch, which is pretty big. Some water-head from ACS (Alaskan Communication Systems, aka our internet) came out to our place and told us nothing that we already know. He worked on it for about two hours and then told us that he didn't know what was wrong and that he is getting another tech to come out later today or tomorrow, ha.
We did have some clam chowder and homemade dill bread for dinner and it was scrumptious.
Day 12
Friday May 29th, 2009
I had a breakfast that I never had before, but it was awesome. We ate cheesy grits with eggs in it and spicy sausage, it was kind of wired but tasted great.
We then measured out were we are going to build in the new office on the porch. And then we started to tare off the existing siding (a 16 foot section). After that was over grandma forced me to help her plant the new flowers.
At 2:30 we headed in to Soldotna to go to the Home depot. We are getting a big truckload of supplies for additions that are going to happen around here. So today we are just picking up all of the small items on the three paged list. Jon and I spent two and a half hours walking up and down the isles. He set up a business account and when you do that you get a free $200 tool, so he is getting a sweet pressure washer.
After our Home depot shopping spree we meet Sally and Tom at the local Elks Club. We had a great prime rib dinner but the best part was that they had TV and Internet! I actually got to watch a playoff game, the Lakers beat Denver to win that series. I am missing all of the playoff games being here but if the finals make it to game seven I'll be able to watch it the night I get back. When we got back home we noticed that no one had came to fix the Internet while we were gone!
Day 13
Sat. May 30th, 2009
Working this morning I did one of my favorite things ever, played with fire! Lately it has been raining so the burning ban has been lifted. I was using a big blow torch attached to a 20 lb tank. It was awesome. We went from patch to patch torching it all. One person followed me with a water hose and the other with the rake; we did switch off from time to time. Jon almost caught a whole tree on fire but luckily I was on hose duty (I said duty). After lunch it started raining again, but we continued to burn until the grass started to get too wet. When we were done with that I continued to clean the work shop until dinner. For dinner Jon and I used some peanut oil and made some fried clam strips. We also had some home made dill bread. The fruits of our labor were scrumptious.
Driving on the roads around here I have noticed that there are ATV tracks on both tides of the road. They are on just about every road that I have seen and the tracks usually last for miles. When I first saw it I though it was the most bizarre thing ever. They ride next to the roads because it is the only clear paths that they have, the forests up here are way too dense for anyone to maneuver through. I have been seeing a lot of wildlife everyday, mostly moose and thousands of mosquitoes.
Day 14 Sunday
It rained again all night and most of the morning so we worked inside again, in the lodge this time. Grandma potted more flowers on the porch while Jon and I started to work on some cabinets. We took an existing cabinet and dismantled it then flipped it around cut out new holes and put it all back together. It was kinda difficult because the previous builder used liquid nail, and we were trying to save the peaces so I couldn't do any major destruction to it taking it apart. We put in a sink and a fridge into the cabinets, but didn't have the right plumbing to hook up the sink so we will have to finish it later.
Our second project of the day was painting. Last summer new walls were put up (making two more bedrooms) and spackling was put on in the lodge but it was never painted. We were going to take a paint gun and just spray the wall but with our luck the gun didn't work. So we took out the rollers and brushes and got to work. We finished the walls in the main room with two coats of paint (white, boring). There are still the bedroom walls and the lights to put up. We also hung up some decorations like snow shoes and a caribou hide.
I got to go to sleep early tonight because my alarm is set for 5:50 am.
Day 15
Monday June 1, 2009
Ahhh, what a great month June is.
We woke up so early this morning because there are fish to be had. The three of us, Bob, and Tom went with Capitan Don (a family friend, with a boat) halibut fishing. We got to the marina around 8, but it was no marina I have ever seen. Because the tide up here varies so much there are no docks, so there are giant tractors. After you pull up at the beach you unhook the trailer and go park your truck, you get everything inside the boat and radio in a tractor; they hook up to you and push you in the ocean. It was a cool set up, and being in salt water the tractors were giant rust buckets.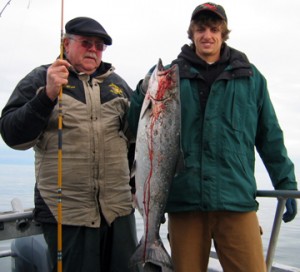 After we got in the water we first started to fish for King Salmon. We did that for a couple of hours and I was the only one to catch one. It put up a good fight, but I won, it was 15 to 20lb. I miss Clinton from just being on that boat.
So we then headed out to sea about eight miles more, switched rods, and started to fish for halibut. We were there till about 3 o'clock and it was a blast. We probably caught around 50 fish out there, but the law is only two halibut per person. There were six people so we came back with 12 halibut. We also caught a star flounder, two cod, and grandma reeled in an (estimated) 180lb stingray.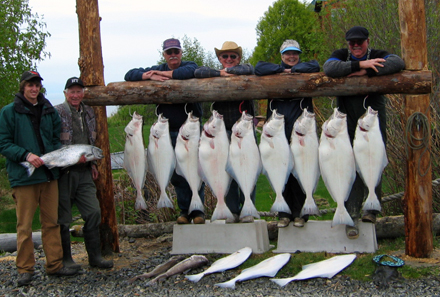 We cut the sting ray loose but it was giant, about a five foot wing span, and a crazy design on its back. I saw lots of wild life while we were out there including two different types of whales, eagles galore, an otter with a baby sitting on its belly, moose, puffin penguins and Bob's butt crack. On our way back we just called in that we were close to land and they meet you at the beach with your trailer. We got back to Capitan Don's house and cut up the fish, there were 120 pounds of halibut fillets that we got. So the three of us went home with 60 lb of fish. It was a great trip.
On the way back home we stopped and ate at Jersey Subs were you can get "10 to 20 inches of pure satisfaction". It is a small chain of sub shops around here that have great sandwiches. We went to the original one that is made out of an old bus and the other part is a shack that is conjoined together. I guess it is a popular place around here, but it was pretty cool.
There was a guy who came and worked on the internet while we were gone fishing, but it still doesn't work.
Today was a good day.
Day 16
June 2 Travismas
Happy Birthday to me! Today I woke up 20. Had a good breakfast and then started to work. We didn't work too much though, just took care of all the fish. We had a smooth assembly line going to package the fish. They have a food saver that vacuum seals food into freezer bags so we used that a lot. Jon would clean and cut the filets into smaller pieces, I would bag the pieces and then grandma would vacuum seal them. We started around 10 o'clock and didn't stop till 3, then Capitan Don and his wife came over to chat for a bit so we never really ate lunch. Right after they left a guy from ACS came over; WE NOW HAVE INTERNET, about time though.
I then showered up and we headed into town for an early b-day dinner. We ran some errands first then went to Buckets Sports Bar to grub on some dinner. I had prime rib bites in spicy blueberry sauce, it was great.
On the way into town we saw a moose and also on the way back home we saw one with a baby calf.
Day 17
June 3, 2009
Biscuits and gravy for breakfast today. We started working in the lodge this morning. We just cleaned up all of the plastic, tape and everything from painting in the big room from a couple of days ago. Then we prepped two of the other bedrooms so they are ready to be painted. The old office room is now a bedroom and we got that all painted today.
Grandma and I went into town to get the mail and to take the trash to the dump. It was a pretty clear day so you could see Mt. Rebout (the volcano) well. Jon told us about a road to check out that leads to the beach across the inlet from the volcano. We went down to the sandy beach and it was a beautiful, clear view of the mountain. There was a cool looking old house that was by the beach. It was pretty much run down and nobody was living in it but it was built in 1890. We think that the siding was made out of old flattened out tin cans. After we got pictures of that we left, with no problem.
Day 18
June 4, 2008
After breakfast Grandma and I loaded up the truck and headed into town to run some errands. We unloaded a couch and a box of stuff at Sally's friend's house. They are having a garage sale in a couple of days, so we figured that it was good place to get rid of some things that were in our way at the lodge. We then went to the propane shop to fill up a one hundred pound tank and three twenty pounders. Then after that we went to Napa to get a new battery for the ford pick-up. The last stop was at the bank so when grandma went in I just sat in the truck and eventually fell asleep, because it took for ever!  I have been noticing that many cars up here have nice rims, with no regard to the condition of the car. A lot of cars also have additional (aftermarket) headlights; I am guessing it is for the winter when
there is only five hours of light per day.  We got back home and I got the battery in the truck and then ate lunch.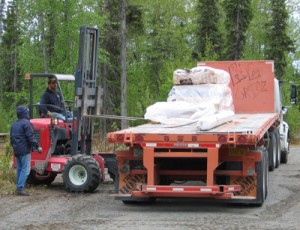 After we ate the Homedepot delivery man came so we started to help him. We unstrapped the cargo and he got a three wheeled fork lift down, it was the coolest fork lift I have ever seen, the forks could move in eight different positions. I didn't really do any work unloading the truck; we just watch watched the guy do all the work, so that was nice.
It was raining throughout most of the afternoon, so we did not feel like putting
all the wood away after the truck driver left.
I then went out to The Toga (rv) and started to clean it up. Wiped everything down on the inside because it was pretty dusty on the inside. I vacuumed up the carpet which could almost be considered shag (just a little short of shag). I also connected the propane tank and tried to get the heater running but it was giving me some trouble so Jon will have to help me with it tomorrow.
Day 19
Friday June 5th
For breakfast we had scrambled eggs with clams, it was different but was still tasty. We checked out the heater in the rv and are pretty sure that it is broke or something. So some camper genie is coming to check it out and make it work.
Today we are getting a delivery of a empty shipping container (a conex). It is coming down from Anchorage and will be here around lunch time. So Jon and I had two get two ten foot 6×6 and get them square and level in the ground for the container to set on.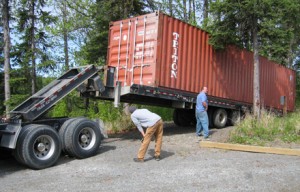 After lunch (soup and homemade bread) the conex driver got here. It was a pretty sweet rig that he had. The back tiers on his trailer were on a giant piston that moved them in and out. The fifth wheel also pivoted up and down so he put the back end of the trailer down and then brought the back wheels in to dump the box. It was slick.
After the driver left we decided that we wanted to scoot the front, north corner over about three feet. So we took the ford 4×4, hooked a chain between and pulled. I was surprised that it moved so easily, considering that it is 8,000 pounds. After all that we took down some more cottonwood trees on the back row of parking spots.
We then got ready to go into town. We stopped at Lowes, at the bank again (no nap this time), and the grocery store. And because it is Friday we went to the Elks Club for a prime rib dinner. It was once again, delicious. When I was introduced to some one there I told them I was from Kansas and it was inevitable but they made a reference to Dorothy and the Wizard of Oz. For some reason I get that a lot when I am traveling, even once in Canada when someone said 'hey, where's Todo' ha ha not funny. I don't even like that movie.
Day 20
Sat. June 7th, 2009
This morning after breakfast grandma and I painted another room so we now only have one room left. It is the room I am staying in and we don't want to paint it till I move out to the rv. After we cleaned up
from that I started to help Jon on the front porch. We put down two layers of plastic and then stapled them down. Then cut pieces of plywood and put them down so now we will be ready to lay a frame.
We then ate salad salmon sandwiches for lunch then got ready to go fishing. Locked up the doors, left a 'gone fishing' sign and headed down to the Kasilof River. We went to the river were Crooked Creek meets the Kasilof. Crooked Creek runs behind their property here and it is kind of a brown color due to the mud. The Kasilof is light blueish green with a grey tent due to the fine gravel up on the mountains. It is very pretty when the two rivers join because the river is two different colors. Too bad there were no fish in the river though. We spent about three hours there with hundreds of other idiots who also caught nothing. We saw one guy with a fish and that was it, even the boats that were passing us got nothing. My right hip-high boot started to leak immediately and my left one started to fill up with water shortly after. So standing for three hours, with both feet wet, and no fish was unfortunate but was worth it (mostly because I didn't have to work).
There has been quite a bit of people staying here the last couple of nights. We have had five groups here the last two nights and four here tonight, including one group from Australia.
It was a beautiful day today, the high was 67 and it was clear skies the whole day.
Day 21
We ate breakfast then jumped into the car and headed to the river again to go fishing. There were not nearly as many people as there were yesterday, so we were only a few of the idiots there today.
Yesterday I had two bites, today I had none. I got a snag just about every time I cast the line. I'll have to try my luck back at the lake. After we returned, around 12, we ate lunch and then started to work. I started by belt sanding a whole bunch of door frames that grandma then varnished. Then we moved the smoker over beside the conex and fired it up. Some salmon jerky that has been marinating for a couple of days was then put into that, and will be smoked for 24 hours. The elder wood chunks that I cut up are what we will use to smoke. I was going to weed-eat for a while but I broke it when I was pull-starting it. I pulled the string out, just don't tell Jon I did it on purpose (ha ha) because I hate weed-eating. It's even worse than vacuuming.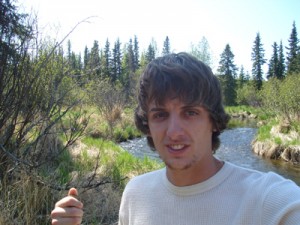 I then went for a short hike. I went down the hill on the back side of the property and walked down to Crooked Creek. On the hill side it was very wooded, mostly pine trees, and there were many trees that had fallen on the ground. Once down off the hill there were few trees and it was mostly marshy till the creek, which is more like a stream. I then followed it up stream, north, for a while before I headed back up the hill to the house.
I took the trash to the dump then we cleaned up from the days work and headed into the house to chow. Jon had some shrimp on the barbie and they were delicious.
Crash time.
Day 22
Monday June 8, 2009
This morning we started to work more on the office and did so all day. Jon and I got the whole frame done. Got a window in and I cut out, and pieced together foam board on the outer frame. It wouldn't seem like it would but that took most of the day. Before lunch I took the jerky out of the smoker, it is very done. A little black and crispy but I'll still eat it. After lunch I did all of my laundry because my room was starting to smell. That was boring. Yesterday while I was driving I saw a busted old snowmobile in the ditch that I hadn't seen there before. I am thinking 'how did that get there?' It is kinda out of place, being a snowmobile usually needs snow to be mobile.
A fellow came to fix the heater but instead he said we needed a new one, which would run us $600 to $900. So I don't have a heater. The exhaust was broke and instead of going outside it would of leaked inside. Good thing I didn't move out there yet eh?
Day 23
This morning grandma and I cut and put up the door frame boards that we stained the other day. We framed three doors inside the lodge and they look very nice, professional. I also cut and hung some ceiling boards for outside of the office.
After lunch I showered up, which I haven't been doing much lately, then Jon and I headed into town. We went to Radio Shack, Three Bear, he got a hair cut (didn't take long), then Homedepot. We spent the most at Homedepot and I bet I made five laps around that place just looking for Jon.
We then went to eat at Buckets sports grille, mostly because Game 3 of the playoffs is on at 5. We ate dinner, a great chicken sandwich, and then left at half time. Jon has a meeting at The Elks Lodge, so I followed him there to watch the rest of the game.
Day 25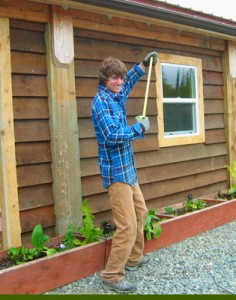 After I ate breakfast we started working on the office again. Today Jon finished up all of the electrical work in the office, while grandma finished up the inside painting, and I started the siding on front of the office. The boards that we took of the front of the lodge before we started the office is what we used. I had to measure, cut and trim each board and then hang it. I got the front done and started the south  side, but that took up most of the day.
The weather was pretty crummy today, about the opposite of yesterday. It was cold and overcast all day.
Day 26
Friday June 12, 2009
After breakfast we once again started working on the office. I  finished the siding on the south side and then Jon and I started to  put up drywall on the inside of the office. We didn't get much done on it though. We only worked till lunch time then cleaned all of our mess up. I headed in to take a shower and then we left for town. We went to Home depot to pick up some insulation, then to the lumber yard to pick up some 14 footers, and then we went to the Elks Club for dinner. But this time we didn't just eat there Jon kindly volunteered us to help with the food. I just stood around for the longest time, but then I started running plates out to the tables. Grandma and Jon fixed up the plates as the cooks got done with the food. No prime rib for me tonight. We  ate at the end of the night when almost every one was gone, but I  still got stake.
I saw the first cop car I have seen the whole time I have been up here, except for the drive down here from Anchorage. It was an ugly cop car too, an Intrepid.
I made a life goal today, sometime I want to buy an old light house. Fix it up and live in it for a long time. Preferably it would be on a  coast somewhere, not in Kansas.
Day 27
After breakfast we started working on . . . the office. I took the two  16 foot boards and ripped both of them into seven smaller pieces. I  then hung them two finish all of the outer frames on the office. We  still have the siding left to do on the north side of the office. Jon  did most of the work but I helped a little and we got the dry wall  done on the inside. The weather was pretty nice today, about mid sixties and clear. We stopped working around 4 because some company came over. It was  aunt Sally, uncle Tom and their son Nelson whom I hadn't meet before. We chatted for a while then chowed. Dinner was pretty good, burgers and  brats on the grill with potato salad and what not. They are going to be watching over the RV park while we are gone until Grandma and  Jon return from Kansas.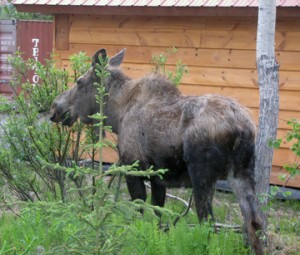 We have been seeing tons of moose lately. There was one that walked right by us when we were at the dinner table. I just looked up and it was standing about four foot from the window. And another time today we were grilling in the outside kitchen and a moose ran right by us.

Day 28
Sunday June 14th
Today we finished working on the office, or at least as much as we are going to while I am here. We got to a good stopping point so we decided that it was enough for now. All of the inner dry wall is done and so is the outside siding. To finish it all that needs to happen is the walls need putty and paint and the floor needs carpet and tile. The desk that was in the old old office is nice but it was to big for the feng shui of the new office to it got cut up. The desk was chopped in half to accommodate the smaller office space.
After the real work was done we took all of the tools and put them in  the work shop, put the big things in the conex, swept and cleaned the porch so the office now actually looks like it belongs there!
Jon told me something crazy the other day. Because moose are like gods up here people do not like when they die. Dogs are considered a threat to moose and mostly the calf, so by law dogs should be on a leash at all times. It is legal and encouraged to shoot and kill a dog if they are seen running loose because they attack moose. Bizzare huh?
Dinner was awesome tonight. We had grilled veggies and crab legs. I have only have had crab a couple of time before but this was by far the best.
Day 29
Monday June 15th
I slept horrible last night, don't know why though woke up like six different times. Oh well, we had waffles and eggs for breakfast. After we  ate, I am proud to say that we didn't work on the office. The office is done, for now. So we just did little odds and ends around  the place. We rolled up the side curtains on the screened-in kitchen. We fixed some pullies and ropes to the bottoms of the curtains so now they are easier to roll up. After that I just took down some big
cottonwood trees next to the park model.
Around 3 o'clock we left to go on a hour and a half drive up the Keni river to fish for some Russian red salmon. It was a beautiful drive, at least the part that I saw because I fell asleep for most of it. There was light rain for the first half hour we were there, and I didn't bring any rain gear, but oh well we were fishing.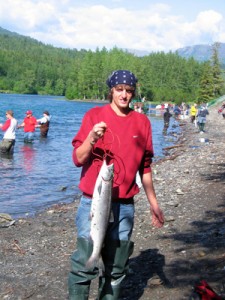 This was was no ordinary fishing though it was combat fishing. When we pulled up to the parking lot I was amazed by how many people we there. People side by side about five foot apart as far as I could see up and down the river. I guess the best fishing is on the opposite side of the river (were there are no roads) so you have to load all of our stuff onto a ferry that takes you across the river. The ferry has no engine, it has a steering wheel and it's connected to cable that ran from beach to beach. The boat ran with the current of the river. Once on the 'good' side of the river we walked until we could find a spot to squeeze into. You walk out with waiters on and throw your line out, not even  cast, you pull in and repeat until you get a fish. We got the end of the first run of reds this season. Jon and I both caught our limit of
three, but reeled in many more.
The law is that you only can keep the fish that you hook in the mouth, the fish that you snag need to be returned to the river. You also have to gut the fish there and the guts also go back into the river. You stand so close to other people that it is a wonder that I didn't  hook any one, I did get tangles in other peoples lines about six times or so.
There was thousands of fish that were in the river in front of us so there were many that jumped out of the water.  At one point there was a old guy to the left of me that was also trying to fish. We saw a fish start jumping about twenty feet out and started heading our way then bamm it jumped out and hit this old guy rite in the stomach knocking  him back, it was hilarious. Another time a girl was reeling a fish in and when she had it close it jumped up, slapped her in the face and then spit the hook.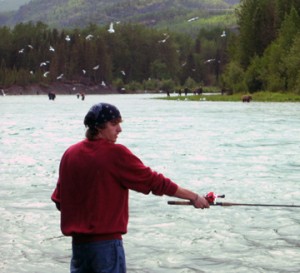 Our backs were facing the forest and across the river is the parking lot and highway. Anyway we saw a bear, a couple of different times coming out of the woods to eat some fish. When the bear would come out everyone would yell 'bear' and people in that area would drop all of their stuff and get out of the way until the bear would leave. The bear caught its own fish but once it took a fish off of some guys stringer. When you catch a fish you have to set the hook and yell 'fish on' so people around you know to get out of the way. You set the hook then start backing up toward land so you can beach the fish before they spit the hook or the hook rips out of their mouth.So another old guy that was next to me had a fish on and was backing up, he didn't look were he was walking and fell over in some deep water and was covered in water. No one that he was with came over to help him up so I walked over to help him but he was more concerned about his fish so he handed me his pole. I still had my pole in my hand though, but I somehow managed to get the fish in and still be holding both poles. This old man must have been freezing although he wasn't showing it. It was already cold out, with no sun and it was windy plus he was soaking wet from the cold river water.
We started fishing around five o'clock and didn't quit until a bit before 10 pm. It was a lot of fishing. We stopped at a burger joint on our way home for dinner. We got to the lodge, put the fish on ice and then passed out quick.
Day Thirty
Tuesday June 16th
This morning after breakfast Jon and I headed out to the fish table. We had both caught our limit so there was six fish to cut up. We cleaned them and then cut them into smaller portions. After we cleaned the table off we took the pieces into the kitchen and took the vacuum packer out. Grandma and I packed all of it and we got 13 bags of red salmon. We threw that into the deep freeze to get it ready for tomorrow. When we were done with the fish we got in the salmon mobile and headed to Homer. It was about an hour and a half drive south, it was a pretty drive but I fell asleep for most of it.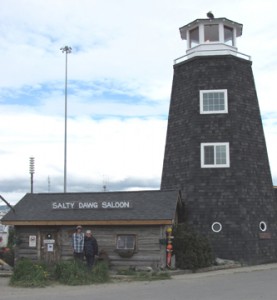 Homer is a rely cool town, it has a wonderful setting for a town. It is built into a mountain side and the lower valley, that overlooks an inlet and across from is another mountain range. We just went to the tourist part of they city and that is all out on peninsula, which is human made. There are small shacks, buildings, and big factories at the end of the peninsula. The shacks were all tourist attractions, the buildings were restaurants, and the factories were fish processing plants.
There was also a huge harbor that had hundreds of boats. We ate a late lunch at a nice Mexican place that had a sweet view of the harbor. I had a crab enchilada and it was delicious. After we ate we walked around the shops for a while and then headed back home. There is a highway that we drove on to get there that is said to be the longest continuous road in North America. It stretches from the end of the peninsula in Homer and goes to Key West, Fl. It is called Lands End. When we got back to the cabin we loaded up all of the laundry machines. All of my clothes were dirty so I figured that it would be a lot easier if my clothes were clean when I got home. We ate a small dinner around ten because we were still full from our huge lunch. After we ate I went to sleep.
Day 31
June 17th, 2009
When I woke up I went over to the park model to eat some breakfast. Then headed back to my rv and folded all of my clothes from yesterday. I cleaned up in there and packed up everything into my suitcases. That took a while. I got a Styrofoam box and we loaded it up with all of our giant fish. Halibut, red and king salmon. We cleaned up around the place, making sure we had everything that we brought. I got done packing earlier than I expected so while I was waiting I took some pictures. I walked around the park and then over across the road to the lake. I took about a roll of film from dads 35 mm. After grandma and Jon were ready we ate lunch and then hit the road.
We left around 2 o'clock and took the same scenic road back to  anchorage. Instead of being sunny and clear for this drive it was  pretty cloudy. They looked like angry clouds too. It never really rained on us though. The mountains look really cool with the dark,  gloomy clouds covering their peaks. A little bit longer and we arrived to Anchorage, then we only had six hours until our flight left. So we went to a couple of outdoor shops  to look for a inflatable boat, we drove through downtown, then Bestbuy to return the Internet router that never worked, and dinner at the Outback Steakhouse. I had never ate there but it was good, even their bloomin onion. After we killed a couple of hours at dinner we left for the airport.
Before we got to the airport we had to take the truck to the storage parking, and then got a shuttle to the air port. We then managed to break through the security gates and lines started to wait again. I then managed to get kicked out of an Alaskan airport bar for ordering water. So I went down to our terminal while grandma and Jon remained at the bar. As I started to wait for our 11 o'clock departure the guy next to me had fallen asleep and was loudly snoring. I hope I don't have to sit next to him on the flight. We finally got on the plane and my plan was to fall asleep until we got to Denver. But I have learned that the best plans go astray because I didn't get a wink of sleep the whole flight.
Day 32
June 18th
Some time during mid fight we exited Alaska and entered Canadian air. The planes had TV screens in the head rests and had regular TV channels on it. Unfortunately there was no reception over Canada. I tried to fall asleep many times but it seemed that every five minutes someone would walk down the isle and bump into me or the food cart would roll over my foot. Sleep never came but eventually we showed up in Denver and only had a 45 min layover until our flight left at 7 am. I didn't remember much from the flight to KC due to some much needed sleep that I finally got. I woke up about 15 min outside of KC. We unloaded off the plane and walked down to the luggage carousel, about half an hour later only one suit case had come up. They then told us  that the carousel was broke and they started to bring  all of the luggage up an elevator. It took a while to get our belongings. Dad and Zachary showed up during our wait, it was good to see them. Still wearing my cloths fit for Alaskan weather I stepped out side of the air port and started sweating immediately in the 90 degree Kansas weather. It felt great to be back in the lower 48.
I had a blast every day when I was up there, I learned so much, experienced so many new things, ate great food and hope I can visit many times to come. So a special thanks goes to Grandma and Grandpa Pyle, without you none of this would have happened.

Hope you enjoyed this as much as we did.  It sparked the idea with our other grandchildren that visited this summer.  I will add those in the next few weeks along with the many projects that we accomplished this summer.  Until the next time which won't be long.