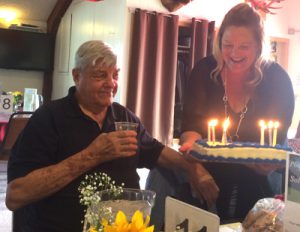 It was Sally's husband, Bob's Birthday and we all had a big party for him at the Soldotna Elk's Club.  His daughter bought him a birthday cake and we had a grand time celebrating his 79th birthday.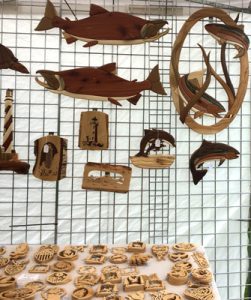 The last week of August was the last Farmer's Market in Kenai. Jan had put an order in for the wooden Christmas ornaments that she paints every year for all the grand kids. One of the local wood carvers does a great job making ornaments. We have 24 grand children (including wife's and husband's) and 5 great-grands, but she only bought 21 cutouts of a moose between two Pine trees. So we need to make up different ones for the rest. It's not a big problem because the new twins get Rocking Horses ornaments for their first Christmas and when the couples buy their first new house they get a wooden ornament of their first new house. Although we have to cut those out separately and there is sanding, painting, and mailing. Lots of time before Christmas, but we better get busy!!!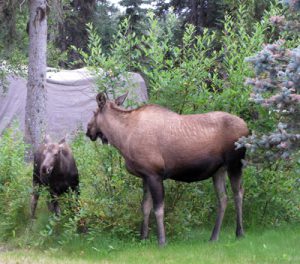 ---
And look who came to see us before we left for the winter.
---
We think this is the same momma that came last year with her twins. She had been bringing her calf up to the Park during this past summer knowing that they would be safe in the Park. We got quite a few videos of the two of them stripping off the leaves of the willows in the yard. This quite often what happens, a female that is born in the Park or near the Park will come back year after year knowing it is a safe place to raise their babies.  It's rare to have a male return because they normally spend most of their summers in the mountains.  Although we did have one male called 'Spike' that came back for three years.
It's Labor Day week end and the only ones left in the Park were John and Kim and Cheryl and Bill, so we decided to have an end of the season Pot Luck.  It was a great way to spend Labor Day and celebrate the end of the summer.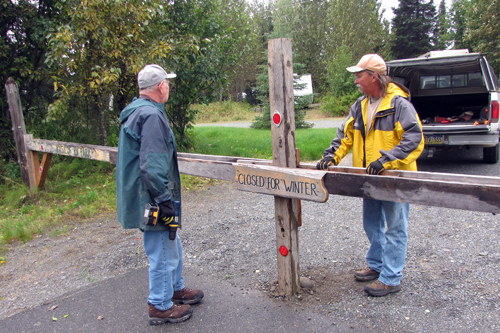 So we closed the front gate, hung up the Closed Winter sign, turned the water off, winterized the Park and said –
---
GOODBYE TILL NEXT YEAR!
---