Hi all,
This the first blog so I will take some time to discuss what I am planning to do.  As most of you already know, I used to update our DJS Folly website during the summer months when something special was happening.  It takes a lot of time to prepare and post a website each month and in the past few years, I rarely updated it each month.  Last summer we sold the DJS Folly.  Jan and I had the good fortune to find a beautiful RV Park already in existence and we purchased it.  At first we were going to utilize it as we had DJS Folly for the purpose of having a place for our family to enjoy Alaska in it's beautiful summers.  However, we got so many previous guests asking if we were going to keep it open that we decided to do just that although it is still primarily for our families.  We now have a permanent website that you obviously know about or you wouldn't be reading this, so I can now update What's Happening at the Kasilof RV Park in the summers by updating this blog and I will also be adding photos and limited discussion of our travels in the winter time.  Since you can already read about our travels last summer in the Maps and Reservations Section, I won't add that to the blog.
One other item and then I will get on with our trip to Texas last month.  If you are interested in following What's Happening as I update it, you can subscribe to the Blog.  By adding your e-mail to the list, you will be notified when I make a change or add another item to the Blog.  You can either ignore it or click onto the website and read it in the What's Happening section under About the Park.  Under no circumstances will your e-mail address be used in any other way.
TEXAS TRIP
First Week

Jan and I decided to see if we liked south Texas this winter.  Now it does get cold in Kansas and BOY does the wind blow.  We don't get a lot of snow because the wind is usually blowing so hard it all blows down to Oklahoma and Texas.  Jan decided to get her cataracts removed so she could see the great sights of Texas so we got a late start and didn't leave Kansas until the 21st of January.  On the third day, the weather was warming a little and we stayed in Fredricksburg, TX (about 50 miles north of San Antonio).  It was a nice surprise, a immigrant German community of the mid-1800's and all dolled up for the tourists.  Actually the beautiful old stone buildings of main street had been converted to gift shops, winery outlets and good German restaurants.  The old stone Churches were really great.  We did enjoy looking through all the shops, tasting the local wines (not bad!) and really enjoyed some good German food.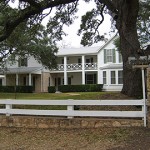 On our way to Canyon Lake above San Antonio, we stopped at the National Historic Site of the LBJ Ranch.  It was a really pleasant stop and a beautiful ranch.  LBJ donated the house and buildings plus some of the land to the Nation as a memorial and it was very interesting.  The State of Texas also has an adjoining part of the park where the visitors center is located.  We really enjoyed visiting a recreation of an late 1800's farm complete with animals and people dressed in the period.  The farm is currently being run as they did in that time, raising feed and food, butchering the animals for their meat and storing it in the old ways.  They were very informative about the conditions and the way things were done at the time.  Both of us being old (very discriptive) farm kids were fascinated with how they got things done without electricity and gas.
On to Canyon Lake later that afternoon and we stayed a few days at the Lazy L & L Campground at New Braunfel.  The campground is located on the Guadalupe River flowing out of Canyon Lake and is has a lot of campsites.  On weekends and holidays we were told that it was totally full with kids and adults rafting on the river and fishing.  Fortunately for us it was the middle of the week and there were only about 25 RVs in the park.  It was a nice park and we enjoyed it although we did a lot of sightseeing while we were there.  It was only about 50 miles from downtown San Antonio.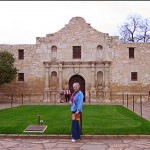 We took a day and toured San Antonio, the main objective being The Alamo and the Riverwalk.  I don't know how many times I have driven through San Antonio and never stopped (usually on my way to Florida).  Now I'm glad I didn't because Jan and I had a great time that day.  We arrived at the Alamo early in the morning (at least for us) as we had been told at the campground that it got very crowded by midday.  We got the audio cassette tour which took almost two hours.  I didn't know that the Alamo is not a National Monument.  I had assumed it was, but it is owned and was restored by the Daughters of the Texas Revolution.  It has been accomplished and is run totally by donation.  It was a good history lesson and was fascinating being there as the audio tour took you through the entire fight.  It's definitely a must see when in San Antonio, but give yourself at least a half a day to really enjoy it.  We did!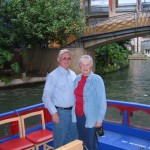 That afternoon we strolled down a few blocks and took one of the river boats on a tour of the river that runs one level down in the central part of town.  Most of this area is hotels, apartments, restaurants, and convention center with associated businesses.  The Alamo is just a few blocks from the boat entrance to the river.  The  San Antonio river  feeds most of the water to the city proper.  The 30 – 45 minute boat tour was in an open raft powered by a natural gas motor and the commentary (punctuated with many jokes) by a fun boat captain.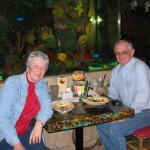 After the boat tour, Jan and I took a stroll back down the Riverwalk to the area where all the restaurants were located.  There is a narrow walkway all along each side of the river often going through different restaurants with tables and people eating.  There were a lot of different restaurants although many of them served some variation on Mexican food.  Many of the restaurants were also accessible from street level up above the river.  We walked quite a ways and finally decided on a seafood restaurant called the Rainforest.  We were shown to a table for two next to a huge salt water fish tank.  We had a large variety of appetizers and two very good Mai-Tai's!  So ended a fun day in a fascinating town.
Next we head south.