Welcome back to the Kasilof RV Park blog!  Sorry that I haven't kept it up to date this summer, but as usual we have been very busy and it is hard to find time to update it as the summer progresses.  Now that it is winding down and the visitors are leaving, I can begin to spend time on the blog.
I guess you will have to put up with me this year as the narrator.  The squirrel didn't show up except for a few days when he tried to get into our house.  We wouldn't let him in and I guess he didn't want to stick around to narrate the blog.  We do have a new Spike (see him in Our Summer Friends), but he didn't turn out to be a big talker like the last one.  He sure did like the plants though!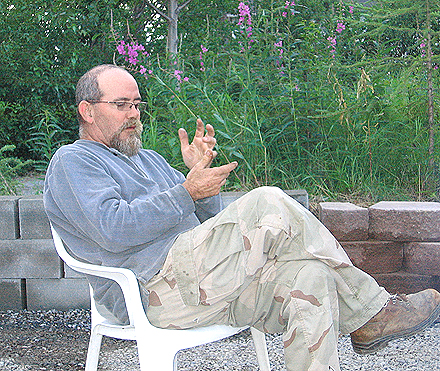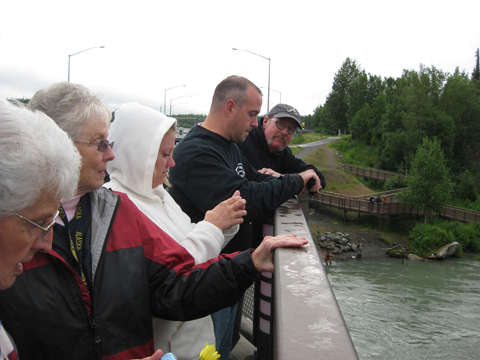 First, it is my sad duty to tell you that we lost our best buddy and nephew,Kevin this past winter.  He fought a battle with a brain tumor that was inoperable for the past three years and in January lost the battle.  He was so much a part of building the Kasilof RV Park that he will always be remembered.  Without his help, the Park would not be the jewel it is today.
His ashes were buried next to his Dad in the Reading, Kansas cemetery although some were brought to Alaska by his son, Ryan.  Kevin always said he wanted to be part of the Kenai River where he and his Dad, David had such great times fishing for Red Salmon.  Ryan, his wife Cheri, Cary Pyle, Aunt Sally Curry, Aunt Jan and I all wished him well as we placed part of his ashes in the Kenai River from the Soldotna River Bridge.  We know that he and his Dad are together again fishing on the Kenai.  We just hope that they leave some of the Reds for us to catch when we get there.  Goodbye Kevin, you are gone from us for now, but will never be forgotten.
SUMMER 2012
It's been a very cool, rainy summer.  The weather people have said it was the coolest summer in recorded history.  When we heard of the blistering heat throughout the lower 48 this past summer, we were happy to be in cool Alaska!  Our average temperature on cloudy, rainy days was in the mid-50's and in the high 60's to low 70's when it was sunny.  It's hard to beat that when it is 100+ degrees in Kansas!
We had a good summer with a lot of wonderful campers from all over the US including Hawaii, plus Europe and Japan.  We also had a great time with our family visitors as you will see in the section, Who Was Here. We had one major project this year with the addition of a roof over the deck area and a small extension of the deck itself.  You will see that later in a separate section (The Summer Project).
The King fishing season turned out to be a big flop to the dismay of many of our campers (more about that later); however, the Red season was a huge success with almost 2 million reds swimming up the Kenai and Kasilof Rivers.  Boy were they big this year and BOY, did we enjoy catching them!!!!  We will sure enjoy eating them through the winter also.
 BACK TO ALASKA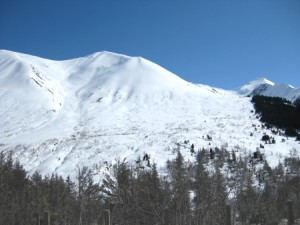 Anchorage had a record snowfall year, 11 feet 2 inches. It was mostly melted when we arrived although there were still mounds of snow piled in every vacant space.  The Kenai mountains on  the way to Kasilof were beautiful with the huge snowfall.  The sky was clear, the sun shining and it was a wonderful trip to our summer home.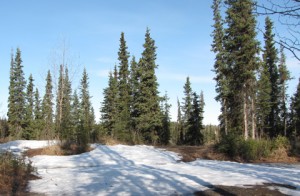 We arrived the 24th of April a little earlier than usual since Jan had to go to Zack's graduation the third weekend in May.  It takes awhile to clean up the park for the summer and this year was no exception.  Although most of the 11 feet of snow we got in the park was melted, there were still some areas in the trees that were covered and there were banks of snow still standing under the roof lines.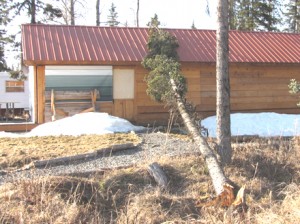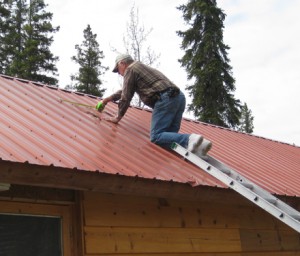 We had one minor accident this past winter, a tree broke off in unusually high winds last fall.  It fell right across the roof of the kitchen.  It didn't look like it caused any damage except a bent overhang.  Later we found that one of it's limb punctured a hole in the roof.  I managed to repair the hole with some left over metal sheeting from our storage area by the well house.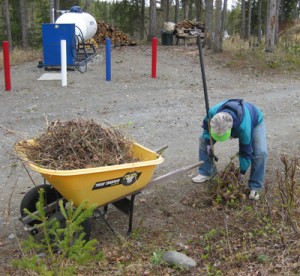 While I cut up the tree on the roof, the dead brush around the RV pads and dead rose branches in the bushes, Jan was busy cleaning up the winter trash.  All of the green areas around the buildings and between the RV pads have dead grass, limbs, leaves and other debris that has to be cleaned for the summer.  We generally burn off the grasses although we have to wait for windless days.  Much of the other debris has to be cleared by raking.  We had purchased our summer flowers shortly after we got here and had them in the Men's restroom where it was warm.  We finally got them into the planters by the 15th of May.  It was too early this year as we had a bad frost on the night of the 17th which nipped a lot of the plants and killed several.  We found out that it's not a good idea to purchase them too early because when the ground is still cold and the nights are near 32 degrees, the plants don't recover well.  It takes them much longer to start growing when they get a cold start.  We do purchase a lot of flowers for the park and they grow wonderful during the long sunny days of summer.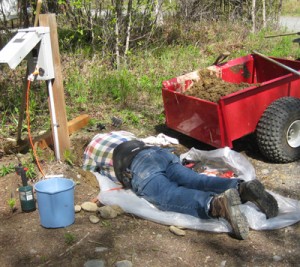 Jan walked by and said, "Laying down on the job, huh?"
"Nope, looking for gold, but all I found was a leak!"
OUR SUMMER FRIENDS
The spring migration of birds started arriving in late May after the ice melted off Johnson Lake. The loons arrived first shortly after the ice melted.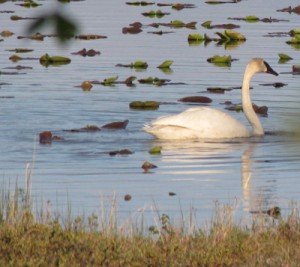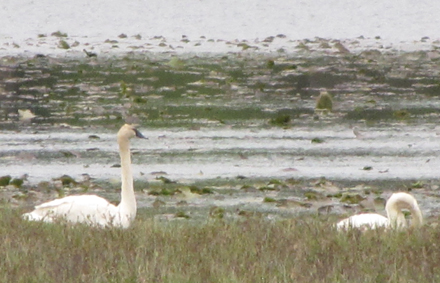 Soon the swans arrived to spend several days resting before heading up to the tundra to their nesting areas.
For the past two years there have been three of them.  We don't know if one of the pairs lost a mate or whether the third is an offspring of the pair.
The Sand Cranes followed quickly and spent time feeding in the tundra area next to the lake.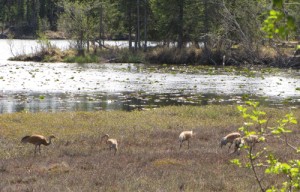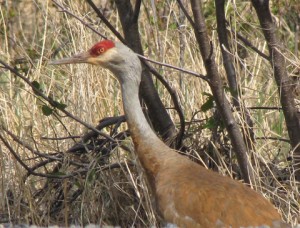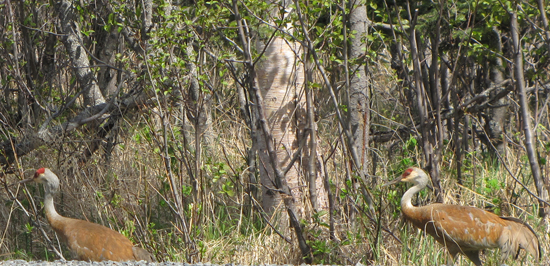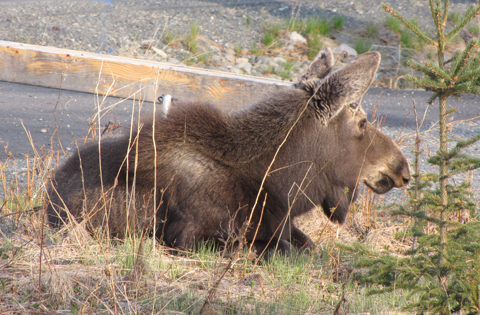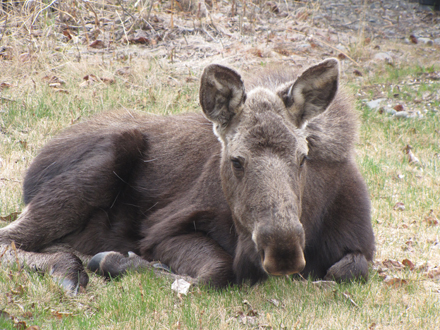 June is calving time for the moose.  As soon as the grass starts to green, the young yearlings come out to feed because the cows chase them away to give birth to the new calves.  This year we were delighted to have a pair of twins from last year greet us early.  Meet Spike Jr. and his sister, Little White Stockings, named because she has white hair up the back legs above her back knees.  Because they were raised near or in the Park last summer, they are very tame and will wander around us without being a bit afraid.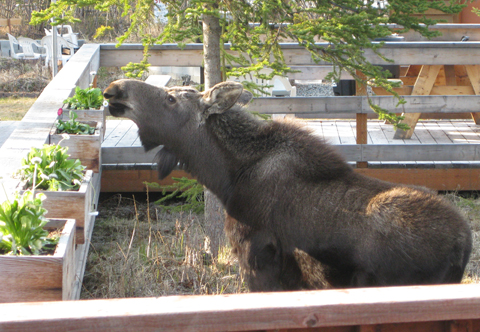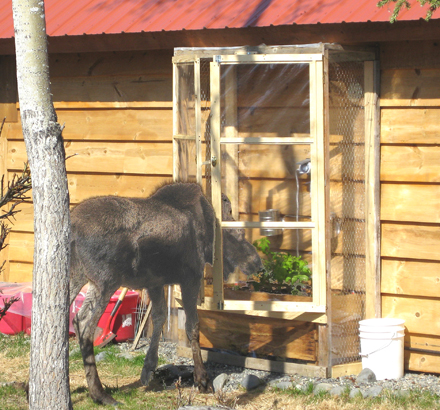 Spike Jr. got his name because he is ornery and a show-off like his uncle two years ago.  Jan and I were standing on the deck taking pictures of him when he decided to smell the flowers in the planters.  I told him that he wasn't supposed to eat those and he turned his head and looked at me.  I could almost swear he grinned, but Jan said it was my imagination.  He didn't eat the flowers though. Next day he was in the back yard.  I had the greenhouse doors open because the sun was heating it up too hot.  He stuck his head through the crack in the door to smell the plants and I yelled at him to get his head out of there.  He backed up a couple of steps and looked at me.  I know that he grinned at me that time!  It didn't keep him from sticking his head inside again, but he didn't eat anything.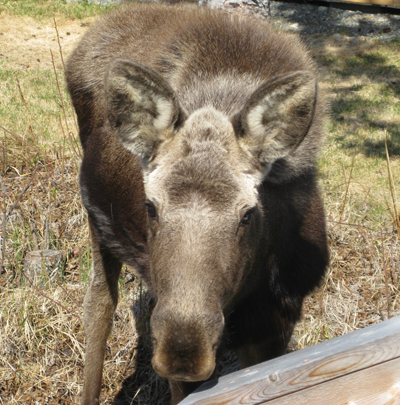 Little White Stockings isn't a bit shy!    She came right over to Jan when Jan was taking her picture. It is almost like they are aware we won't hurt them and are as curious about us as we are about them.  We do notice that when strangers come around, they tend to get away from them, but around us they are like part of the family.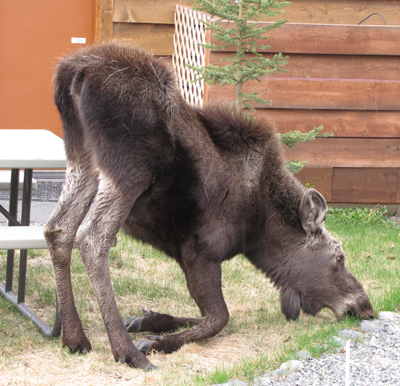 She had been down on her knees eating the new green grass just coming up on the lawn, but decided that she wanted to come over and tell Jan Hi!  We watched her eating the new grass on her knees for some time and when she cleaned one area, she would move over to another still on her knees.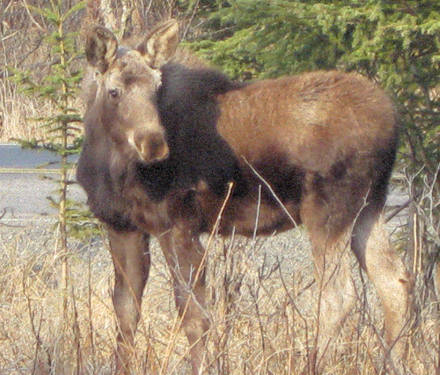 And there is Mom (note the light color of the hair on the back legs) making sure that her offspring aren't causing a lot of trouble to us.  She has been a part of the Park since we bought it four years ago and probably longer than that.  She has raised several sets of twins and several singles in the Park over the years and we have enjoyed them and her immensely.  We hope she will have some more this spring.
As the summer continued, we saw less and less of them.  By mid-summer, Spike had grown a set of horns although still just spikes with a ball at the end.  He would appear in the park in the late evenings and at night, but we rarely saw him during the day.  Little White Stockings soon wasn't little.  She would still come around at times and appeared for Bus and Carol Stromgren when they arrived for a visit in mid-July, but we haven't seen her since.  All the moose become very shy when the park is full.  There are usually several dogs in the park and lots of people.  Hopefully we will begin to see them again before we leave this fall.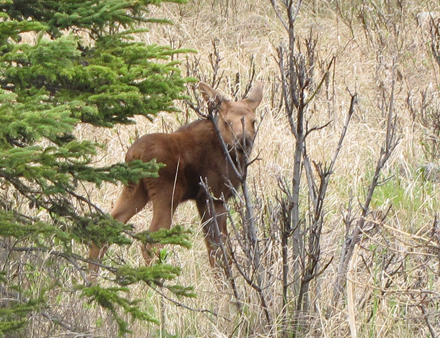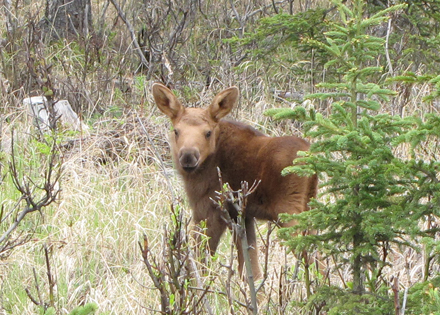 It is new baby time with another mother that we know.  These little ones were born to Old Scarside, a cow that has been around the Park a lot also.  She must have gotten too close to a bear in the past as she has two claw marks down her left side.  She sure makes cute babies though.
Keep looking for the next installment of the SUMMER 2012 Blog.  It will be coming in a couple of days (if it keeps raining)!