Note: Jan and I asked Grandson Jerod to drive our Jesus van (large passenger van implying a church van which is named 'Amazing Grace',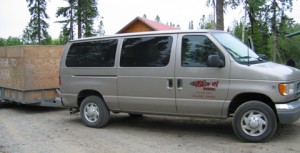 a story far to long to go into here)  to Alaska from Kansas where it was purchased by our son, Todd. From Kansas it was driven to Nebraska in June.  Grace would be pulling a boxed in trailer with two pontoon boats, a 4-wheeler and every other thing we could think of to pack inside it (i.e. spare tires, tools, clothes, electrical supplies, fish boxes, etc., etc., etc.).  Jerod asked his brother Jordan and buddy, Brett to take the trip from their home in Scottsbluff, Nebraska to Kasilof, AK approximately 3000 miles.  The following is a narrative written by Jerod's brother, Jordan of their trip and a few accompanying photos.  I will add more at the end of their fun times with their Dad, Paul when they reached Alaska.

Voyage to the Last Frontier -Day One, July 8th-
Friends, Nobles, Countrymen, here we are again. Nebraska to Alaska, July 2009. For those of you that don't know, the writer's torch has been passed to yours truly, Jordan Post. I am the son of Paul and Debbie Post. My relative's previous writings took place in and dealt with their individual observations/exploits in Alaska for the most part.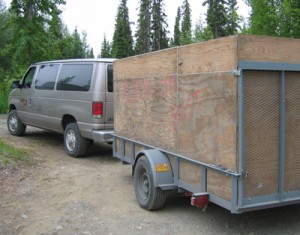 My writings will be concerning our exodus from the holy land of Nebraska to the 50th state of this fine union.  My companions are none other than my brother Jerod Post and his chum Brett Keller. So here we are. Riddled with excitement and shackled with road anxiety and some questions. Will we blow a tire? (we have a spare for the van and two spares for trailer)  What if we get lost?(We have approximately 13.5647 maps and a Garmin). What if the Canadian border patrol strip us of everything aside from our dignity?(…Lets just hope not).
We started a little later than expected due to the fact that Mr. Brett Keller is apparently a very important man, but alas we are on the road. So far in the trip we have been mocked by the fine citizens of Mitchell, NE, drove through 20 miles of construction at a blistering 30 miles an hour and figured out the difference between Norm and Max A/C.  So needless to say, it has been incredibly eventful thus far. We are excited and ready for this journey but I know for at least for me the actual distance we are driving hasn't sunk in yet. I feel like we are driving today and maybe sometime tomorrow and then we'll stumble across the Alaskan border sometime in the near future. Gentle readers, I know this isn't the case, but the truth has yet to infiltrate my thick candy shell of a skull. Hopefully, this will happen soon.
We continued on and the Wyoming/Montana scenery treated us very well, it was quite scenic and very beautiful. We ended up stopping in Billings, Montana at a gracious Holiday Inn Express.. I was driving on this leg of the journey and I missed a small, minor turn to our hotel (due to the lack of lady Garmin) and was immediately tortured by my savage companions degrading insults. We were further plagued by hunger and so we attempted to make it to a tasty Hu-Hot grill but we never even managed to see this mirage of a Hu-Hot let alone fill our gullets there. So we scuttled on to the friendly neighborhood Applebees eatery, where Jerod "Mathematician"  Post decided to add our bill $52.72 with a $7.28 tip and somehow came up with $53.00..….We chided him softly, strapped his protective helmet back on and quietly exited the establishment to return to our hotel. Anyway, we hope the trip will continue without further ado. And now, I will leave you with a little rhyme and reason to sooth your souls.
The trailer is packed, we are ready to go
Headed to the land of ice and snow
The van is loaded and our spirits are high
Our wings are locked, we're ready to fly.
We the three stooges or the three musketeers
On the open road without qualms or fears
Through big sky country and rolling grass hills
We are ready for adventures, ready for thrills.
Loaded with food and supplied with drink
We're driving to the end, nearly the brink
Through towns and cities, big and small
The crew is passing through, wave to us all.
We have shoved off, the ship has sailed
So far we're good, nothing has failed
Finish this trip, its an absolute must
Succeed we will, its Alaska or Bust!!!
Voyage to the Last Fronier -Day two, July
We woke up around 8:30, dined at our hotel breakfast continent and got gased up and on the road by ten. The Montana landscape was very beautiful and we were soon surrounded by mountains, rivers and picturesque valleys. Upon topping a hill and seeing mountains, nay, I will realistically say foothills, my two noble companions whipped out their cameras and started snapping photos through the bug smeared windshield with the enthusiasm of Japanese tourists like they had never seen a mountain (foothill). I had several things to say about this but my words were received with a repercussion of insults and stinging  jests, so I returned to my music and book. We drove onwards until we reached the city of Bozeman and dined at Famous Dave's Barbecue. It was a comfort to see that there was some strains of civilization this far up in the savage land. We dined without any mathematical mishap this time and continued on our way.
Brett was driving this shift and somewhere around this time he was acquainted with our other travel companion, Sway. Now gentle readers, Sway is a fictional companion that consists of our block of wood trailer swaying back and forth as many trailers do. The exception being, our dear trailer has the aerodynamic capabilities of a certain Mount Rushmore. So the movement back and forth can be quite a handful at specific times. Jerod and I have already been acquainted with Sway and know her as a darling friend who is helpful and even reassuring at times. To Brett, she was known as a demon banshee who besieged his driving shift and haunted his dreams. Now Sway aside, the big part of this trip was crossing the Canadian border.
We were thinking we would at least have to open the trailer and reveal the hallowed contents inside but much to our surprise all we had to do is hand over our passports, list of contents and answer some questions. He asked about firearms, license plates, alcohol, tobacco, designation, reason, origin, length of stay, profession, line of study, the square root of E=MC squared, the average weight of the spotted Mongolian jungle rat and the radius of the sun. We passed all of questions with flying colors, especially the last three.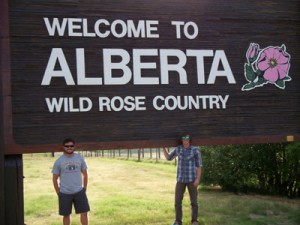 We continued on with glee and ended up holing up in Lithridge, Alberta with some Quiznos and some local spirits. Thanks for reading and stay tuned for the next installment. I shall now once again regale you folks with some the time (11:17 pm) and rhyme.
Through Montana and Canada we pass our way
Without problems or qualms we are here to stay
The mountains are beautiful, the rivers are blue
I will try my best, a few more stanzas for you.
With blurry pictures and maps we shall soon prove
Our miles and hours, we are making the move
With bbq in our bellies and jests on our lips
We've told the story to folks, the tale of our trips
Charging up north, a traveling we go
Through rain and sleet, whether friend or foe
Us three youths, to drive we are hired
I'd write you more but I'm too damn tired!!!
**Disclaimer** This section contains heavy sarcasm and Sahara desert dry wit. For those with a weak heart or stomach do leave the room to prevent further discomfort. Please do not attempt this at home.
Voyage to the Last Frontier – Day three July, 10th-
Hello again friends and family and first of all, thank you for bearing with me thus far and my half-witted stabs at humor and monologues. Secondly, looking back on my first two days I realized I made some typos. On day two I left out the "t" on the word "Frontier" which left it saying "Fronier." I don't rightly know what a fronier is but I will try and figure that out and get back to you. I didn't even attempt to list the date as well on that title. I also misspelled the town we spent the night in last night, it is actually spelled "Lethbridge." For these grave mistakes, I sincerely apologize for any temporary paralysis or indigestion they may have caused you. Now that my conscious is cleared we can continue onto the narrative. We awoke at around the same time in our Best Western hotel, packed up and got on the road.. Due to lack of sleep or road daze I was feeling somewhat off kilter. After tossing down a highly nourishing breakfast of gummy worms and warm Nalgene water I was much relieved. We continued cruising down (technically up) the road and my thoughts began to wonder.
At times like this, one might wish for alternate routes or methods of travel such as teleportation or time travel. Wouldn't it be nice if we got in the van in Nebraska, punched a couple buttons on the dash and land in Kasilof RV Park complete with Loon serenades and frequent Moose visits. We would be able to completely step outside of time and reality, and completely surpass distance and days alike. As illustrious as this fantasy might sound, facts soon override. Today I started Kurt Vonnegut's Slaughterhouse-Five and later finished it this evening so I will use his words to best counteract my disillusions. "As an Earthling, I had to believe whatever clocks said-and calendars." These words in mind I have accepted our terribly out-of-date means of transportation. We stopped to refill our tank and stomachs in Calgary, Alberta. We ate at a buffet (pronounced BuH-FaY for those of you that might not know) attached to the Flying-J gas station where we filled up. Needless to say there are some very interesting characters in Canada but for the most part have been very friendly. Now at this humble buffet (see pronunciation above) a very grave mistake occurred that might interfere with my abilities to continue to write or even have healthy children later on in life.
Our server breezed up to our table and asked what we would like to drink. I had a hankering for a frosty Dr. Pepper but they did not have that on tap. I guess the Canucks don't believe in 23 flavors of sheer ecstasy. Now, I happened to be approximately 3.2 metres (Canadian spelling) away from the table browsing the goods on display. When she asked for my second choice I shouted over in a clear, lofty voice, "iced tea please." The waitress mumbled something about the iced tea being brewed in the restaurant and I replied, "that is fine." Frankly, I didn't really know where else it would be brewed now that I look back. Anyway, we filled our plates, sat down and began to tuck in. She promptly returned with our drinks in tow and lovingly placed them on the table. I reached for my beverage and took a large sip, expecting greatness. I instead winced, recoiled and doubled over in intense pain……..the tea was sweet……..I was instantly offended, shocked and engulfed with rage. In the name of everything holy, we were this far north, half a continent away from the Mason-Dixie line and I was just served sweet tea. With much difficulty I managed to regain my composure and continue on with my meal after ordering a PLAIN water. That horrific incident aside, I can continue.
When we started this morning we had planned to make it all the way to Dawson Creek to be able to start on mile zero of the Alaskan highway in the morning. I will skip ahead and just say that we pulled into Dawson Creek tonight around 11:35 pm. We didn't manage to catch sight of Katie Holmes or James Vanderbeek. In between our dining experiences at Flying-J's and now we did a few things. We tried to check out the Calgary Stampede, a version of the OT or Camp Clark Days except multiplied by many large numbers. I'll check with Jerod on the math but don't necessarily trust those numbers. Anyway this event is broadcasted to be "The Greatest Outdoor Show on Earth" but due to lack of parking, rush hour in downtown Calgary, outrageous prices and our dear trailer we abandoned the idea and cruised on.
Somewhere before cruising through Valley View something happened that caused quite a sight and certainly some fright, as well as some light. By this time the thick tree landscapes that we had been waiting for had finally arrived. Thick aspens lined each side of the road. We were driving along, just driving along and driving along, and it began to rain. It started lightly, and then continued to increase in rate and amount. We heard a couple thunder claps and continued on to carefully push forward. When out of nowhere a thunder clap boomed above our head so close we not only heard the clamor but we could feel it. Immediately after this, lightning ripped out of the sky and struck the trees along the right side of the road a mere fifty yards in front of our eyes. It came screaming down in a rush of light and power, struck one tree and jumped to another directly to the right of us about thirty yards away.. We all looked at each other with astonished eyes in silence and then started yelling.. "OH MY GOD DID YOU SEE THAT, HOLY COW THAT WAS LIGHNING, WE JUST SAW THAT STRIKE!!" We certainly yelled other things to each other in the aftermath of excitement and adrenaline but they don't bear repeating. The rain eventually let up and we drove on knowing that we probably just saw a once in a lifetime event unfold before our eyeballs.
The rest of the trip consisted of stopping at Sammy's restaurant for some Canadian burgers, french fries and gravy. This turned out to be delicious and well worth the stop. Outside of this establishment we were posing for a picture when we unintentionally mingled with a local, complete with "oh yas? and ehs?" who had a little two much to drink. We were snapping photos when he wandered up and asked us about the van, trailer ect. We replied the usual gab, chatted it up and got back in our rig after saying goodbye about eight times. Brett was talking with us at first and then disengaged and went and sat in the van until he left. His reason being if he stood within a five foot radius of this man any longer he would become intoxicated strictly from the fumes radiating off of this stranger. We continued on without any more mishaps and pulled in to Dawson Creek as mentioned ready for rest and ready for tomorrow. Farewell audience, until we meet again.
The trip continues, we are on day three
We are enjoying this much, believe you me
As time goes on there are hours to be bored
We shall inch along under the guidance of our Lord
We speak of love, loss and life ahead
And dream of where I will lay my head
The music will carry us on down the path
And hope for the rain to not unfurl its wrath
Much of the landscape stays the same
Cows and grass like lands of another name
Until trees and rocks we have finally seen
Alaska drivers we have not yet been
Through lightning, drunks and fries we drive
The number remains just three friends not five
These other rude drivers can eat our dust
Tomorrow we repeat, its Alaska or Bust!!
Voyage to the Last Frontier -Day four, July 11th
Ladies and Gentlemen, welcome once again to my words. I have to start things off once again with an apology for a grim misspelling that I have rendered to your trusting eyes. We are now and have been traveling on the Alcan highway, not the "Elcan" highway as I have previously spelled it. I am sincerely apologetic for this momentous mistake and I can only hope I do not have to begin a journal entry with this kind of preamble again. I also need to say thus far today, as I am writing this at 6:49 pm Pacific time, we have not experienced any lightning or sweet tea catastrophes so this day may not be as exciting, I once again find myself apologizing..
We awoke about eight this morning and ate a more healthy breakfast at our continental services. We did our fluid, air, and gas checks and were on the go at around 9:30. Before we actually got on the highway we stopped at the historic mile zero marker in downtown Dawson Creek. This large marker represents the first actual mile of the Alcan highway, which we learned stands for the Alaskan/Canadian highway, thus the spelling. I drove from Dawson City all the way to Fort Nelson where we stopped to eat lunch at a Boston Pizza bar and grill which was in the possession of very tasty eats and drinks..
I forgot to mention we passed a town yesterday called Demmit. Now, for those of you out there that are having trouble trying to quite swearing we have figured out this town is a perfect replacement for a certain D word that some folks use. For example, one could say when speaking on the phone to a certain customer representative, "I ordered my Michael Jackson memorial figurine three weeks ago and it still hasn't came Gol Demmit!!" See there? Same sound, same emotional tone and nobody gets hurt. You weren't swearing, you were merely shouting the name of a remote town in Alberta. Whether you might end up using this or not, I shall now digress Demmit…Replacement swearing aside, these past few days we have made some observations about Canada and the people that inhibit this land.
Number 1. The road signs.
Since crossing the border we have seen a strange assortment and variety of signs. We have seen signs that are yellow that are checkered in black with nothing else on it. Their version of a school bus crossing is a picture of a school bus with a child on either side that are supposed to be walking away except the children are posed in such a way to look like they are dancing. We do not think this is intentional but it is maybe an effect of our road fatigue kicking in. But there are lights twinkling on this bus that pose as strobe lights so it is a regular party. There is yet another sign that is a yellow backdrop and then if you three black diamonds and put them together on the yellow sign, there you have it. What is that supposed to mean? I don't know, don't ask me please. And the cream of the crop, we have seen many signs that have black plastic bags draped over them. Did they not want the signs to get cold and soggy in the rain? Maybe the signs are sensitive to the sun and it's the job of some poor sap to drive along the highway every night at dusk and unsheathe these signs from there dark shroud then put them back on before the sun rises. That's it, vampire signs.
Number 2. Construction
There has been enough construction we have driven through to reach to the moon and back since we have been in Canada.. On many of the sites it seems they are not actually working on anything but have just deposited many tools, vehicles and manpower for the display of it. Oh yes, and the signs, don't forget the helpful signs. At these sites they don't actually ever do construction, they just stand around looking at each other and ponder the difference between burnt sienna and maroon as a crayola color. Once this is accomplished they pack up and go home to get ready to do it all again tomorrow.. On the sites where it appears they are actually doing work another thing struck us as odd. The majority of the workers appear to be very, very young. We are not sure if child labor laws here are different or if there some under the table kind of operations occurring before our eyes. No matter what it is, if we have a young worker approach our window and ask us for a push-pop and if he can stay up past 8:30 tonight, we are going to tell him no on both accounts and try and get in contact with some child services.
All tom foolery aside now, ever since driving out of Fort Nelson the scenery has been absolutely beautiful.. We are paralleling and crossing the northern most part of the Rocky Mountains complete with thick forests, cool mountain air and crystal blue water. The wildlife has also been quite abundant. In the last three hours we have seen one black bear, one male moose in velvet, one female moose, about eight bighorn sheep along the side of the road, males, babies and females, and four or five caribou. It has been very exciting and refreshing to see wildlife to help keep us interested as well as having effects against insanity due to seeing nothing but trees and road.
In the next few hours after writing everything you have already read we ended up seeing a total of 10 black bears, 6 moose, two of them male, 8 caribou, and the same number of bighorn sheep. Somewhere around this time we faced and overcame a difficult group decision.. With careful consultation to our trusty atlas we realized we simply would not be making Whitehorse as we had planned to late that night.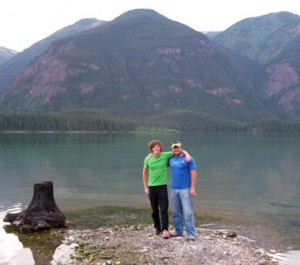 The roads were steep and winding, and once again we were confronted with a ridiculous amount of construction.. If we were to stop in Watson Lake for the night to stay we would not make it to Soldotna on Sunday as planned but it would be Monday, which was simply right out of the question. We conferred and the decision was made to push on through the night. I need to state at this point that Day four and Day Five are blended together since that's how it happened.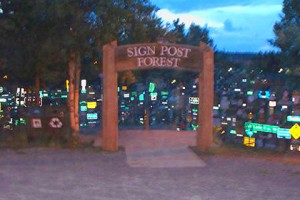 We stopped briefly in Watson Lake to look for an open gas station which was apparently an impossibility for we never found one at the early hour of 11:43. We instead amused ourselves by viewing and collecting snapshots of the famed signpost forest in Watson Lake. This famous collection is home to more than 61, 398 signs that was started by a homesick soldier working on the Alcan construction on 1942.  This was quite a sight and a nice chance to stretch our limbs. We drove on, wanting to find a 24 hour gas station for obvious purposes. We struck figurative gold in Nugget City, a RV park/lodge stop open 24 hours complete with gas, a gift shop and an all night deli.. We were very grateful for there services even if the people there were a little odd and continued on our way.
Day four is upon us we are on the run
We have time to work, time to have fun
We have reached the mountains, peaks at last
The curving roads keep our speeds from fast
We are up in altitude this I know
For if I look closely at the top I see snow
Looking around me, my heart is sold
Laying down at night, my pillow is cold
Opening my ears, eyes, nose and mind
I am at peace up here, one of a kind
The sight of a moose, the sun still at nine
The rush of the rapids, the smell of the pine
At times I grow restless, to be out there I wish
To hike, to climb, to shout, to fish
But our mission is to drive, to finish our quest
We will accomplish, we will pass the test
And for this opportunity, we are forever grateful
To this idea, my grandparents were faithful
I speak for all of us, when I write and say
We will never forget this, for all of our days
Brett took the red eye shift from about 12:30 to 5:00 with myself as his copilot. Jerod was lodged in the back seat catching up on some needed z's. I conked out for about two hours but the rest of the time was awake with Brett talking into the wee hours of the morning. It was actually very calming and a scenic drive through the shadow laden mountains. Something that both of thought was very interesting was the fact that it never actually got completely dark throughout the entire night. Some areas of the sky were darker than others but nonetheless, it was never reached the level of inky blackness normal folks are accustomed to.
We pulled into Whitehorse a little after 5 am this morning and again searched out a fueling opportunity. Either places weren't open yet or the places that said 24 hours were only accepting credit cards that were issued in Canada.. So we ate breakfast at a little place that was operated by a gang of small Asians who gave us choppy directions to another 24 hour place nearby. We threw down our biscuits, juice and coffee and went to this other gas station. No luck, same rules applied. So we resorted to our own methods of finding fuel which consisted of driving around and looking for one. We found one that actually was open and accepted cards from other nations. But it turns out the card that had been issued to us from the grandparents had a hold put on it because at the rate we were crossing borders and consuming fuel it looked like the card had been high jacked. Later on in the day we got in touch with the boss and they got it sorted out with the bank so we were able to keep regain our usage of the card.
Since leaving Watson Lake last night until right now which is in fact 6:03 pm on Day five of this escapade, we have been surrounded by mountains virtually on every side at almost all times.. This has contributed to the scenery once again and helps keep us from madness. I drove from Whitehorse to Beaver Creek which was about fifteen minutes away from the border. I had been up since a ways before Whitehorse I felt the need to switch drivers here with Jerod and crawl into the backseat. I figured I would stay awake for the 15 minutes or so until the border just to stay awake for the proceedings that awaited us there. That didn't happen. I drifted away into the arms of sleep and bolted awake when we reached the border.
We figured they would be a bit more severe coming back into Alaska from Canada but in fact they were very friendly. This young man we dealt with was very friendly and looked very young, early twenties. But he issued about the same questions, even some jokes about our passport photos not matching any of our faces. This I can understand because on Brett's, he is wearing glasses which he doesn't anymore. In Jerod's, it is his senior picture and he now resembles Grizzly Adams, the run-away ex-Marine. In mine, the photo was taken a few days after my state swimming meet Senior year so I have a bald head and I didn't smile in the photo, so I more or less resemble a convict. All passport jokes aside we continued on without any trouble and a resounding cheer of glee for being back on US soil, complete with sensible road signs and miles per hour. I then continued on checking the back of my eyelids.
This day was destined to be the last day, that is why we pulled the all night operation. No matter what the circumstances we faced we were bound and determined to make it all the way. This day is somewhat of a blur for me, because in between sleep and endless time of being on the road it was all starting the crash down in my mind. As mentioned on Day three I finished Slaughterhouse Five, and I also finished Aldous Huxley's Brave New World on this trip so between those two my head was spinning with parallel universes and time travel anyway without any regards to our trip.
I finally got caught up on sleep and Jerod had been driving this whole time so we were always on the go.. We stopped in Toke, Alaska for some reindeer hot dogs and burgers at a little espresso place. Both turned out to be very tasty and provided the energy we were seeking. As you might imagine we got back on the road. We drove and drove, drove and drove some more. We eventually pulled into Anchorage at around 7:30 pm or so.. We refueled, snagged some Dairy Queen and Brett switched over to driving. The drive from Anchorage to Soldotna is supposed to take about 3-3.5 hours and it ended up taking us about five. We only stopped once for a great picture opportunity but guess what help us up? If you guessed highway robbers I'm sorry, you are incorrect. It was our dear friend, construction. Brett and I figured throughout the entire trip, starting with the first construction in Mitchell to Soldotna, we probably lost four to five hours of time either stopping, slowing down or conforming to single lane traffic or loose gravel situations. We were somewhat steamed at this point being so close, and yet so far.
The tide was in on the Cook Inlet and this provided the best scenery yet with the majestic waters either rippling with tides or smooth as glass set against a backdrop of snow capped mountains and green forests. Brett and I once again resorted to conversation as the best means of keeping each other going this last few hours. Now I am going to say something that I don't believe I have ever said in my entire life.. I'm not sure if I want to listen to music the next day or two. We have all gone through our Ipods every time we would switch drivers. Whether it was play lists, random songs or albums I could see my Ipod panting every time I removed it from the connecter. But since I'm writing this now on day six, from The Kasilof RV park lodge, I can say my Ipod has rested and I once again love music..
So ladies and gents, we made it. We pulled in to the lodge at about 12:30 thanks to the flashlight guidance of Grammy and we are finally here. After five days of road food, driving, hotels, freakish sleep patterns, driving, maps, music, conversation, driving, pictures, construction, mountains, trees and driving, we have made it. Thanks so much for reading and I hope no of you faithful souls have lost brain cells due to my scribing. I will continue to send updates of our time here in Alaska, they won't be as lengthy as these because I'll be to busy being in Alaska. I will send the last section of the ongoing poem tonight because if I tap into my creative juices anymore I will resemble a walking skeleton, for they are nearly dry. Thanks again to the faithful and we will be in contact soon.
Voyage to the Last Frontier  -Day six, July 13-
Hello once again all you down south there in the "lower 48" as they say. Its me, up here in the wilderness as your one and only Alaskan correspondent. I am sitting here more happy than a vampire in a blood bank. If you've kept up with your reading then you should know that we made it to our final destination last night. There is a story that merits telling that occurred prior to one o'clock last night. After traveling for five days and living out of a van for the last two the one thing I wanted was a nice hot shower and sleep. I guess that is two things. Anyway, there are perfectly good showering facilities in the lodge where we are holing up for our time here. Previous to showering my dear Gram cracker (slang for Grandma) informed that the electricity was out and we didn't have lights but didn't have unlimited running water as well. But, they have a back up reserve tank for occasion such as this.
"The water shouldn't run out at all, you guys should be fine if you each take a shower" chirped my grandmother. Reassuring words for our tired selves. There are three separate showers but I had to wait for Jerod to be done to wait for the shampoo and the soap. Brett had his own. Eventually Jerod finished his shower and handed over the supplies so I hopped in and commenced my cleansing process. I was enjoying my shower and began to shampoo my hair which slightly resembled four drowned rats holding hands previous to showering. I was fully shampooed and ready to rinse when my shower head slightly faltered and then completely stopped. I turned it on and off a time or two. Nothing. Great I thought, what now? I threw on a towel and went into the bathroom and tried the sink. Nothing. Even better I thought. At this point the shampoo started to avalanche down my peaked head and stream into my eyes. So here I am, at one in the morning blindly stumbling around the lodge at one in the morning back to the shower to try again. Nothing. Just then I had a great idea. A light bulb even lit up above my head, except it didn't light up because we didn't have electricity. I scuttled back to my room in search of my nalgene. I had about a third full nalgene water receptacle in there.. I rummaged around slinging water and shampoo all over everything and finally found Jerod's, which I combined with mine making about a half full nalgene. I staggered back to the shower and poured the cold water over my head mostly rinsing the blasted shampoo out of my hair. With that pleasant experience out of the way, I dried off, made it back to my bunk and fell into a deep hibernation.
Today I slept in until about ten and had some fruit and coffee for breakfast. Jerod, Brett and I went into town with Ryan, which is Kevin's son. We took care of such things such as lunch at Sal's, a great local eatery, knife shopping, a trip to the local brewery and the DMV for Ryan. We came back and bummed around for awhile unloading things and sampling the local brewery's finest. We had delicious ribs, beans and potato salad for dinner. We then geared up and went fishing at the Kasilof River down the road a ways. We were trying to snag Red Salmon, which don't really start running until the 15th or so. We all had waders and commenced to wade out there and give it a shot. None of us caught any thing but nonetheless it was a beautiful evening and a beautiful time in the river.
I know I promised the last part of the poem but I am too tired tonight and I have already used up my juice for today. Tomorrow I will have a short summary but a long finish to the poem, guaranteed. Thanks and goodnight.
Voyage to the Last Frontier -Last Day, July 15, 2009
Ladies and Gentlemen, here we are once again and for the final time I'm afraid. I am deeply sorry I did not send out my correspondence last night as promised, things just got in the way and sleep called to me with a voice that was both loud and clear. I will give you a short rundown of the last two days and then finish with a final poem. I wish I could keep this up for the rest of the summer but alas, I am spread too thin. And the moment I leave Alaskan soil all of you faithful readers shall return to the interests of your own lives I'm sure because the rest of my activities this summer will fail in comparison to this past week. With that being said I shall dive into the wonderful world of words to finish out this adventure..
On Tuesday we woke and help my dad take apart the trailer that we tugged up here. We basically took the big wooden box off of the flat bed where it was screwed down on the way up to Alaska.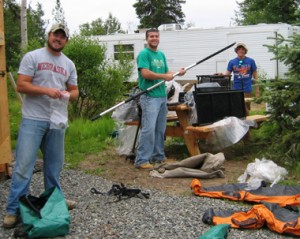 That being done, Jerod, Brett and I set to assembling two pontoon boats that consisted of metal frames with inflatable sides. This at first proved daunting but due to the previous efforts of out dear Uncle Todd, they came together without to much trouble. After this was accomplished Brett and I took a nice jaunt into the nearby woods surrounding Johnson Lake. This was a somewhat bittersweet hike because we had to try really hard to try and find woods where we couldn't see roads and houses or hear a dog in the distance. We found a bit of untamed wilderness but we sure had to try at it.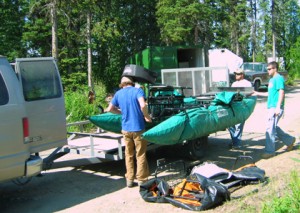 Later on  in the afternoon we decided to see if our pontoon boats were seaworthy and indeed they were out on Johnson Lake. A few small lake trout later we returned. After dinner we went out and tried the mighty Kenai river this time for some Red Salmon snagging. Again the water and surrounding area was absolutely gorgeous in the late summer light but again we managed no salmon. Brett turned the head of a nice one but the savage snapped the line. So aside from Jerod deciding to take a seat in the river and fill up his waders we had no action. We got back pretty late and hit the hay for Halibut were on the agenda the next morning.
We were up before six and at our outfitters within a half an hour. We set out on the Cook Inlet with a nice young captain named Garret. He was the oldest son of the fellow that owned "Reel Em In" Charters. We gunned out about 20 miles from shore and began to fish. Mount Redoubt and surrounding peaks were in the distance on the horizon for a nice backdrop.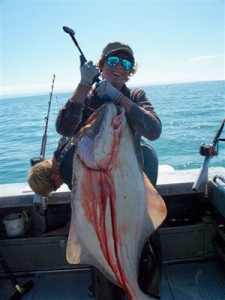 We got into the halibut pretty quick and Brett was the first one to land one. We were with another guy named Scott and between all of us we probably caught around 30-40 creatures. We were only allowed two Halibut person so we came back with ten Halibut when the day was done. Now above there I said creatures because we caught more than just halibut.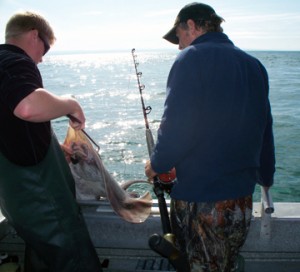 My dad laid into a fairly large manta ray which took him quite a while to reel in. And Jerod hooked something that took the combined powers of mostly himself, my dad, our skipper and myself. After about an hour of fighting the son of a gun we pulled up what was called a Sleeper Shark. This wasn't your ordinary shark folks.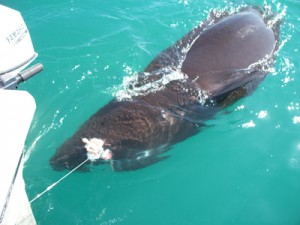 This beast measured around 13 feet long and was an estimated 1,000 pounds. At his widest, he was about as bid around as a 55 gallon drum. It was quite a sight and very exciting.. We turned him back because the meat is no good and I'm not sure if we could have got him in the boat if we would have wanted to if it was. I ended up with the catch of the day with a 65 pound halibut and he put a up a solid fight as well. All in all it was a great time out there, a beautiful day and a great batch of fish in the end. After hanging them up for pictures, our good captain filleted our fish against our protests to help.
After we returned to our campgrounds we went to the processing mode. We had such a good assembly line going Henry Ford himself would have been downright tickled to see it in motion. Brett and myself cut the skin off the halibut and resized the fillets by way of knife. My dad was rapidly creating our own size plastic sealing bags with rolls of special plastic and a cutting device. Jerod and Kevin were vacuum sealing them as fast as we kept the fillets and bags coming. Grampy John was firing up the grill and Grammy was manning the rinsing water refills as well as the Tanguray and Tonic refills as she does so well. After a fine dinner of fresh halibut and grilled steak and veggies Jerod and I retired to the porch for our last look at Alaska with a lit Cuban cigar clutched in our hands. And now friends and family, my last attempt at my poetry to sum up this land we call Alaska.
Thank you all for reading, you are the reason I am typing out these letters right this instant. I always know what happening in my head (well, most of the time) so I am spilling this out for all of you out there. I hope you have enjoyed these correspondences and I also hop they haven't caused you to much anguish. Thanks again, and I hope to see you all in the near future. If not, may these words and rhymes serve as a fitting replacement for my absence.
My friends and family we are here again
To recount tales and stories of fish and fin
Of hikes and drives, the wild and tame
The adventures in a land with no other name
Alaska we call it, the wild frontier
There's gold and mountains, without any fear
We have hiked, fished, worked and ate
We've woke up early and stayed up late
There's been fun, laughter, friends and jokes
There's been stories, seriousness, drinks and smokes
Don't forget land, sea, trees and air
Or moose, caribou and many a bear
We caught many halibut, we didn't get skunked
We went on oceans and lakes without getting dunked
We tried for salmon, and none for a reason
The blasted things just really aren't in season!
And now the truth is, we are truly thrilled
We stayed here for free, without being billed
For the drive, the stay, the food and fun
We owe our elders, a thanks never done
Now I mean my parents, and my mom's too
Without you kind souls I don't know we'd do
This trip has been fantastic, great and a blast
As you all know, good times go too fast
Now I'm afraid the end is drawing at hand
Come tomorrow night, will be 'ole Nebraska land
I would write you more, a story I suppose
But here and right now this is poetry not prose!
Thanks again to all that head have read
Now stop straining your eyes, go rest your dear head
I'll retire from this business without a fight
Now to some goodbye and to all goodnight!!
Jordan Post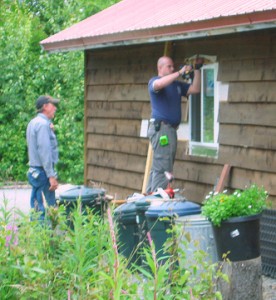 A few more photos of the time that the boys and Paul were with us this summer.  They help a lot as the next few photos will show.  Here Paul is giving Ryan moral support as he installs window in each of the new rooms in the Lodge.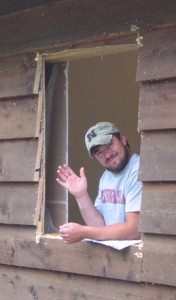 Jerod had to get into the act also and was the inside guy.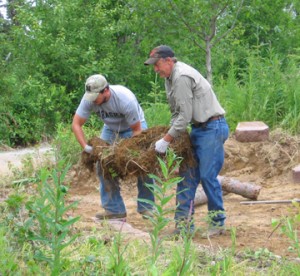 Paul and Jerod were great help with the building of the firepit (see the future blog on the construction of the firepit for more photos).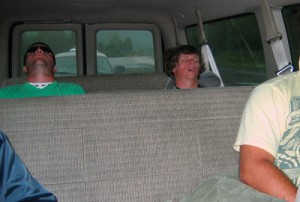 It was an exciting week of wild travels, big fishing, hard work and lots of fun.  The guys were worn out and spent the trip back to Anchorage sound asleep.
So ends the Post Boys narrative and next on the agenda is the Saga of the Firepit construction.  See you then!